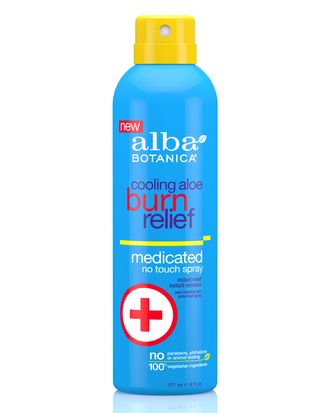 Alba Botanica Medicated Spray
Photo: Alba Botanica
Whether you wandered onto the beach sans-SPF or you were exposed for lying about being blindsided by a certain Kanye West song, burns happen. As long as the burn isn't a gnarly, blistery one that begs a trip to the doctor, sunburns are completely treatable at home. Well, that's Alba Botanica's medicated spray, of course.
This spray is a toy store of skin soothers and repair ingredients. There's glycerin, that old humectant of moisturizers to hydrate chafed skin. Aloe's included to reduce redness and swelling, and equal parts menthol and allantoin puncture pain and soften skin, respectively. The canister is easy to use, and the spray falls onto skin in a clear, non-sticky layer. You can layer it under or over body moisturizer and be fine either way. Like many a summer skin-care product, from sunscreen to bug spray, Alba's spray is tinged with a strong scent. It smells minty and medicinal, but in 30 minutes, the hospital aroma is gone, just like that!
The spray's soothing effect isn't terribly long-lasting, but that's okay. Just spritz as needed (every few hours or so) for temporary relief. But even if you aren't schlepping a burn, Alba's spray is cooling in its own right. Perfect for when the thermostat spikes up past 90 degrees. Perfect for today.
Alba Botanica Medicated Spray, $16 on Amazon.