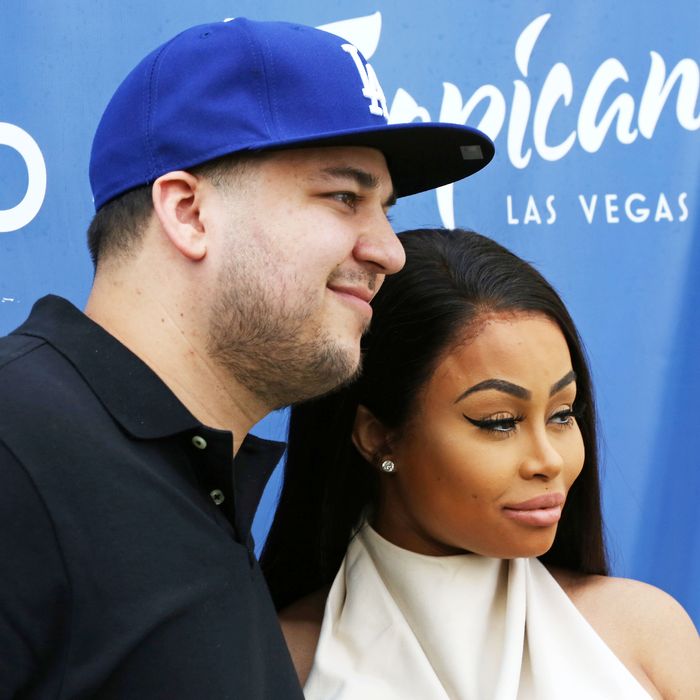 Rob Kardashian and Blac Chyna.
Photo: Gabe Ginsberg/Getty Images
Erstwhile sock designer and sole male Kardashian heir Rob Kardashian just unfollowed his pregnant fiancée, Blac Chyna, on Instagram. He also deleted all of his Instagram photos. (Except for one of himself.) What is the meaning of this?
Rob has deleted Instagram photos before, but this time, things seem more serious. The occasionally reliable gossip site Media Take Out reports that Rob and Chyna had an argument yesterday while filming Keeping Up With the Kardashians. Per the site:
Our Kardashian snitch refused to tell us everything surrounding the split, but did tell us that the argument started when Rob saw what is being described as a 'suspicious' text message on Chyna's phone. We're told that the two had a BIG BLOW UP on camera, and that Rob 'dumped' Chyna.

Immediately afterwards, Rob DELETED all photos of Chyna from his Instagram – and UNFOLLOWED HER. Chyna immediately unfollowed Rob on Instagram, but early this morning began following Rob again.
Kardashian news agency E! News, meanwhile, reports that "something" could be going on with the couple. The official Twitter handle for Keeping Up With the Kardashians tweeted out this highly specific report:
So perhaps this is all for the show.
We wait helplessly for the true nature of this social-media mystery to be revealed (on Snapchat, probably).