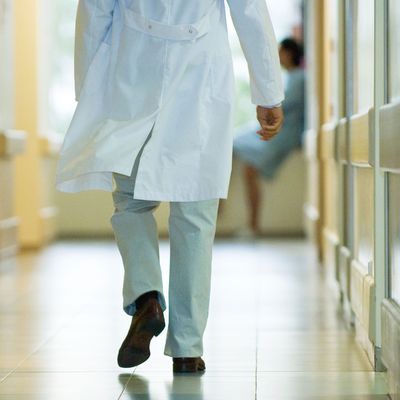 Photo: PhotoAlto/Odilon Dimier/Getty Images
It is a sad fact that some sexual predators wear white coats and stethoscopes and take advantage of people who entrust them with their bodies. It is sadder still that sometimes the only repercussion for sexually abusive doctors comes in the form of confidential letters from state medical boards expressing concern. According to a national investigation by the Atlanta Journal-Constitution, doctors operate in a system that tolerates — and sometimes shields — repeat offenders while patients are none the wiser.
The Journal-Constitution pored over documents describing misconduct including molestation, unnecessary pelvic exams, and rape, some in patients who were sedated. While there were doctors who were immediately disciplined following a report, others were simply scolded in private.
That's assuming the assaults were reported in the first place: Some people are so shocked that a doctor would abuse their power, and doubt anyone would believe them. If a patient reports an assault to a medical board, only 11 states require authorities to inform police or prosecutors.
Medical boards do publicly reprimand doctors, with sanctions including treatment programs, required chaperones when seeing female patients, and monitoring of their practice. Still, the reporters found that, of 2,400 doctors publicly disciplined for sexual misconduct nationwide since 1999, half still had active medical licenses. Some doctors who lost their licenses simply applied for one in another state.
The report raises the question: Why are some doctors seemingly given a pass while abusive coaches, teachers, and, more recently, priests get registered as sex offenders?
The writers argue that doctors are considered sympathetic, valuable figures who had a lapse in judgment, rather than criminal deviants. Some argue that barring such doctors from practice is a costly overreach:
Doctors spend years in costly medical schools and training programs. They're smart. They're admired. They're needed. Like the giant banks that were once viewed as "too big to fail," the nation's doctors are often considered too precious to

 

discard.
The full story is worth reading, and it also provides information on proper protocol for breast exams and physicals and how to report sex abuse by a doctor.