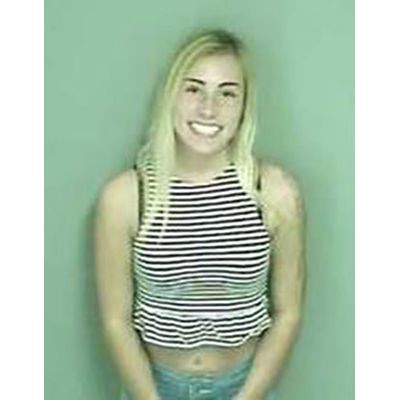 Willow Martin wore a crop top.
Photo: Connecticut State Police
A teenage exotic dancer from Connecticut who was arrested for arson on Tuesday wore a crop top in her mug shot. It's more stylish than your summer beach outfit, and it appears to be 19-year-old Willow Martin's signature look for jail time. She wore a similar striped shirt in another mug shot last June, when she was arrested for using counterfeit bills and possessing heroin. This week, Martin was arrested because of a potato, which allegedly proved she burned down a building to get revenge on her ex-best friend, after a shopping spree.
Martin and Breonna Constantino started dancing at Southington's Hollywood Connecticut Strip Club last summer. That August, on a beach trip to Wildwood, New Jersey, Martin lent Constantino $1,200 to go shopping for clothes. When Constantino took too long to repay the loan (she gave Martin only $300 to $400, according to the Daily Beast), Martin allegedly decided to get revenge by burning down a construction business owned by Constantino's stepdad. She texted her boyfriend for help.
On September 5, 2015, 28-year-old Matthew Garguilo took a gas can and a hammer from his parents' Naugatuck house and drove Martin in their Honda Civic — later, he told police he helped Martin because he didn't want another guy to go with her. The building in Prospect, Connecticut, housed the stepdad's business and a Chinese restaurant.
Garguilo apparently watched from behind a bush while Martin smashed a window, poured gasoline, and set the building on fire with a flaming napkin. The explosion was so powerful it knocked Martin through the door — later, Garguilo said it was "just like in the movies." The couple fled the scene and then returned to watch the blaze, reportedly high-fiving over their success.
According to court papers obtained by the Daily Beast, after the fire, Martin would allegedly drive past Constantino's family home throwing trash in the front yard and smashing Halloween pumpkins. When her mom texted Martin about the harassment, she replied, "What are you talking about; I put the trash where it belongs." Constantino stopped working at Hollywood Connecticut Strip Club.
At some point during the crime, though, Martin and Garguilo slipped up: Martin allegedly stuffed a potato up the tailpipe of Constantino's stepdad's car, hoping to blow up his engine. When the stepdad arrived at the scene last September and discovered the potato, he gave it to police. DNA on the spud pointed to Garguilo. Now Martin's ex-boyfriend, he was arrested last week and told police he gave the potato to Martin. Her new boyfriend also told authorities Martin was behind the crime.
Both Martin and Garguilo were already incarcerated for other crimes when they were arrested. In June, Martin was jailed for trying to pay a toll on the George Washington Bridge with counterfeit bills; police found dozens of envelopes of heroin and a large knife in her car, which reeked of marijuana smoke. She wore a striped top in that mug shot.
This week, Martin was extradited to a Waterbury, Connecticut, jail and held on $110,000 bail before a Wednesday arraignment. She was charged with second-degree arson, conspiracy to commit arson, third-degree burglary, conspiracy to commit burglary, possession of burglar's tools, conspiracy to commit possession of burglar's tools, first-degree criminal mischief, and conspiracy to commit criminal mischief. Garguilo, jailed on $35,000 bail, was charged in connection with the fire.