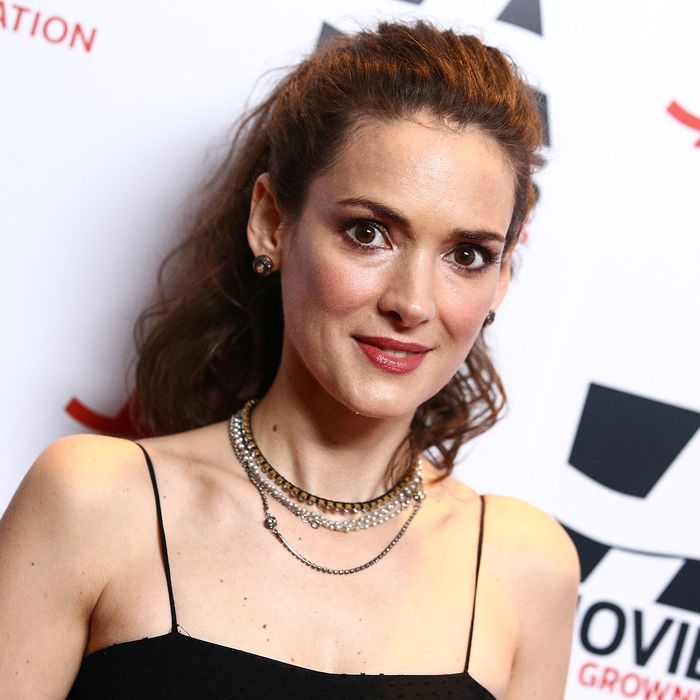 Photo: Imeh Akpanudosen/Getty Images
Winona Ryder, icon of the '90s, has been mostly out of the spotlight for a few years (though that's changing with the premiere of Stranger Things on Netflix). Yet the passage of time has not erased from memory the names of any of her former beaus.
Especially when they have names like "Johnny Depp," to whom she was engaged in the early '90s. When that relationship dissolved (see: Wino Forever), she was with celebrities like Dave Pirner (from Soul Asylum), Matt Damon, Beck, and others.
Still, while Ryder was connected with many leading men in the '80s and '90s, she has only been engaged once and never married. That hasn't been a problem for her, as she explains in an interview with Net-A-Porter's the Edit.
"I'm a serial monogamist," she told the magazine. "I was single for a while and dating and … I just didn't know how to do it! I've always been like that: When I was 15, there was a guy I liked, and we made out, and I thought that meant he was my boyfriend. My mom had to explain it to me."
Marriage, though — that's more complicated.
Thinking about the subject, Ryder seems a bit hesitant about the whole matter. Marriage, she tells the Edit, is held to a higher standard.

"But marriage? I don't know," Ryder said. "I'd rather never have been married than been divorced a few times. Not that there's anything wrong with divorce, but I don't think I could do it if that was a possibility. When your parents are madly in love for 45 years, your standards are really high. But I've been happily with someone for quite a while now."
"I'm very private so I can't imagine what I'd want to share with the world," she told the Edit. "I can't even take selfies; I literally just learned about the button that makes the screen flip."