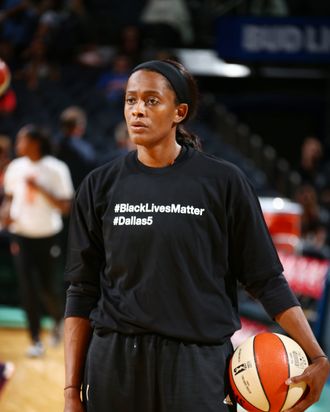 Photo: Nathaniel S. Butler/Getty Images
After members of the New York Liberty, the Phoenix Mercury, and the Indiana Fever began wearing slightly altered warm-up shirts as a response to the recent shootings of black people and police officers over the past few weeks, the WNBA has fined both the teams and the players for their statement.
Because players' warm-up shirts are not allowed to be altered in any way, even the slightest change is grounds for being fined. Members of the three teams have worn plain black warm-up shirts without their team logo, but with the Adidas branding. In the beginning of July, Minnesota Lynx players wore shirts that read, "Change starts with us — justice & accountability," in response to recent deadly shootings. Afterward, the WNBA sent out a reminder of the league's uniform policy. But because the New York Liberty have worn the altered shirts four times, and the Mercury and Fever followed suit by wearing them on Tuesday, they are now on the receiving end of a league fine.
Each team will be fined $5,000, and each player will be fined $500.