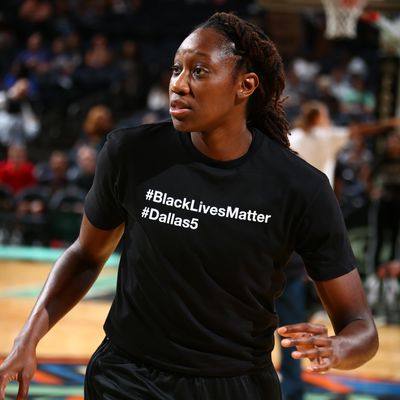 Tina Charles of the New York Liberty.
Photo: Nathaniel S. Butler/NBAE via Getty Images
The WNBA has rescinded the fines levied at players who wore black shirts during their pregame warm-ups to show support for Black Lives Matter and to protest recent police shootings.
WNBA president Lisa Borders released an official statement Saturday about the fines.
While we expect players to comply with league rules and uniform guidelines, we also understand their desire to use their platform to address important societal issues. Given that the league will now be suspending play until August 26 for the Olympics, we plan to use this time to work with our players and their union on ways for the players to make their views known to their fans and the public.
Borders offered her support for the players via Twitter as well, writing, "Appreciate our players expressing themselves on matters important to them. Rescinding imposed fines to show them even more support."
Players for the Indiana Fever, New York Liberty, and Phoenix Mercury were facing penalties of $500 per person, with each team facing $5,000 fines, for wearing plain black T-shirts and/or black shirts with slogans showing support for Black Lives Matter and protesting gun violence. (While that seems like it would be pocket change to pro sports players, even the WNBA has a gender wage gap.)
In any case, fining the players had the unintended (though welcome) consequence of raising even more awareness, especially as team members protested the fines on social media and staged a media blackout.