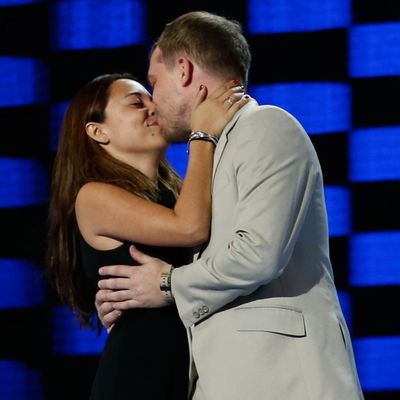 Congratulations, you two.
Photo: Bloomberg/Getty Images
The Democratic National Convention in Philadelphia got off to a rough start this weekend as chairwoman Debbie Wasserman Schultz resigned amid yet another email scandal. But prep for the big event continued nonetheless, and one DNC staffer took advantage of the still-empty stage to propose to his girlfriend, another staffer.
He projected a slideshow of photos onto the screen before a final photo popped up: "Will you marry me" (no question mark) written in sand on the beach. Then, he got down on one knee and proposed to the apparently shocked woman in front of him — luckily, despite being put on the spot in front of hundreds of strangers, she said yes.
We might've had second thoughts about being proposed to at Wells Fargo Center, but hey, you do you.