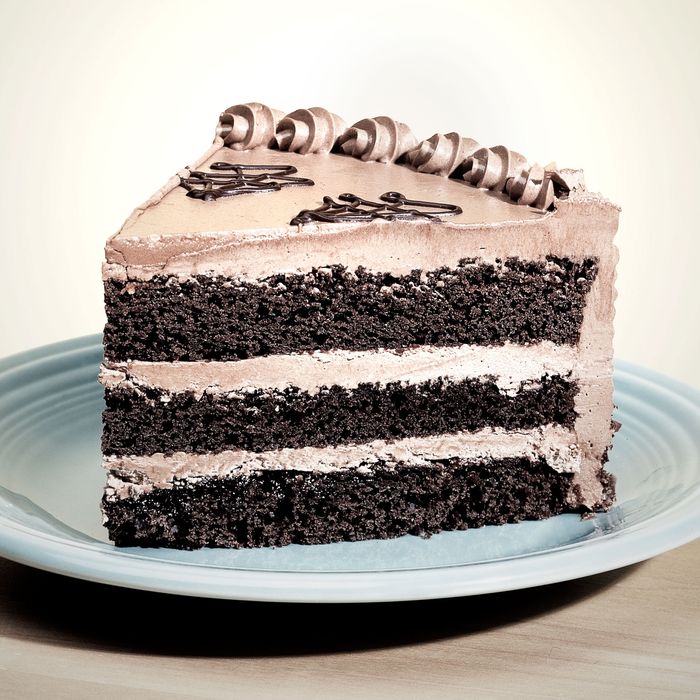 New York's Sex Diaries series asks anonymous city dwellers to record a week in their sex lives — with comic, tragic, often sexy, and always revealing results. This week, a 41-year old yoga instructor: bisexual, open relationship, Ditmas Park.
DAY ONE
8:00 a.m. I wake up fantasizing about cake sex. I have a real food fetish, which mostly involves sweets like pies or cake but sometimes pizza or pasta. Generally, someone has to feed it to me, but there are a number of food iterations that really get me off.
3:00 p.m. I go to my favorite local bakery and purchase a piece of chocolate cake and a cupcake — just because these items may or may not enter my mouth doesn't mean I don't want them to be delicious. My favorite part of having a food fetish is procuring the items and transporting the goodies. Sometimes, if I'm in the supermarket, I'll take a picture of the items at the register and send it to my partner — it's all foreplay for me. I also purchase an US Weekly, as my partner recently said he'd love to lick my ass while I sit on his face and read a magazine. I'm down for anything, plus it's important to me to be Good, Giving, and Game. Thanks, Dan Savage.
7:30 p.m. My partner and I are engaging in another great conversation, but I keep stealing glances at the box. He's making himself dinner, and I'm not sure if he thinks we need to wait for "dessert." Finally, I tell him that I'd like him to feed me the cake, small bites at a time.
8:30 p.m. An hour later, half of the slice of chocolate cake and half of the cupcake are left, and I'm dripping wet. Sometimes I get so aroused and fulfilled by the food play — the feel of it in my mouth, the sounds, the textures — that I don't even want sexual intercourse. This time though, I'd still like to fool around. We go over to the couch, and I sit on his face. After a few fantastic minutes of oral sex, I get the plate with the cupcake. I have a really good time eating that cupcake while he eats my pussy.
9:00 p.m. I suggest that we go for round two by getting some pizza and bringing it back to the house.
9:30 p.m. Next thing I know, a cheese-pizza slice is being rubbed around my breasts. I love this, and I know he is enjoying it too. For the next hour or so, we have sex in a variety of configurations. We fall asleep together in his bed. I've known my partner for ten years, and we've been a serious couple for the last three, with a few of the in-between years as platonic friends as well as occasional friends with benefits. I love him.
DAY TWO
9:15 a.m. I call one of my best friends. She's someone I've actually been intimate with both individually and as part of a threesome. She also happens to be working on her dominatrix skills and recently converted her vanilla boyfriend into a sweet and perverted pet. I tell her all of the details from last night.
12:30 p.m. My partner and I have a brief recap conversation about how good last night was. I confirm that he knows he's on his own tonight.
2:30 p.m. I start to receive texts from a guy I'll call the Bartender. We've actually been talking and casually hanging out for a couple of weeks. He was originally part of an open couple, but I don't think his girlfriend actually wants threesomes or non-monogamy anymore.
3:00 p.m. I go to the gym. I have a quiet workweek, yoga-wise, but I still want to exercise a lot.
4:35 p.m. I get ready for a dinner party at a friend's house. He's outgoing, and he's invited me and two other guests, all strangers to each other, to his house. I'm really excited because I love meeting new people.
9:30 p.m. I'm having a great time — intelligent and challenging conversation, not to mention lovely food and phenomenal red wine.
11:15 p.m. I decide that I'm going to go visit the Bartender, who works at a gay bar. I tell him that I'm coming out to see him, and he puts me on the list — it's not a big cover by any means, but it's a cute gesture. I'm already wasted.
11:27 p.m. I go over to the bar to say hi, then I hit the dance floor. There's a mixed crowd — some lesbians and heterosexual couples. I spot an attractive woman and start dancing next to her. Next thing I know, I've made out with a different woman and danced with an adorable, sexy young couple. I'm probably the oldest one in here but it's dark and I'm not sure if it even matters anyway. I haven't been out dancing in a long time.
12:35 a.m. In the bathroom, I check my phone. The Bartender has texted me that he's jealous of what he sees on the dance floor and also that he'd like to do dirty things to me. (For most people, this generally means something vanilla, like light choking, but I happen to know he's into kink.) I walk out and go say hi to him.
12:37 a.m. He's a good hugger, and he feels solid. He tells me to meet him in the hallway in 15 minutes. Okay. I go back to the dance floor, where I start dancing with a hot young guy.
12:57 a.m. The Bartender pulls me into a back stairwell, and we make out. We've never made out before, and he's a good kisser, even though he has a beard.
1:05 a.m. I go back out onto the dance floor and spend the next hour and a half dancing, sweating, and rubbing my body and hands on anyone who is willing and cute. One of these cuties is a 22-year-old soldier in town on vacation. He keeps trying to go home with me, but I know from experience that randoms aren't very satisfying encounters. I actually have to have a real conversation or two or five and spend some time with a person before I have sex. We exchange numbers, as he's in town for two weeks.
2:47 a.m. I walk home. Bartender is texting, asking if I want company, but he doesn't usually get out of work until about 4 a.m. I tell him yes but only if he comes over soon.
3:04 a.m. I decide that I don't really want a booty call with the Bartender tonight; I just want to shower and go to bed (plus I don't feel like waiting up).
DAY THREE
10:00 a.m. When I turn on my phone, I see that Bartender had texted me last night at 3:21 saying he was waiting in his car and wanted to know if I still wanted company. I'm glad he wants me — making him wait probably isn't such a bad thing.
10:30 a.m. At the gym with a friend. I tell her about the fun night I had at the club.
11:30 a.m. Army Guy is texting me — we make some small talk, but I tell him that I'm at the gym.
1:30 p.m. While preparing a dish for a party later that night, I respond to Army Guy and ask him what's up. We discuss hanging out. I tell him the sooner the better. Apparently, I'm about to have an afternoon booty call.
2:45 p.m. Army Guy comes to my house. He tells me that he had his friends drop him off as a safety precaution. I tell him that I alerted my friends just in case he had thought about strangling me. We both laugh. It's actually nice to know that we've both considered the potential risk of going to a stranger's house. Yay, he has half a brain.
2:47 p.m. He asks where the bedroom is and immediately tries to touch my crotch. I tell him to slow down — that approach isn't sexy to me.
3:20 p.m. Our clothes are half off. I ask him if he likes to lick pussy and if he'd like me to sit on his face. Turns out he's not bad at it, but I am beginning to feel like he may need to be schooled. That actually sounds kind of fun — I do like the fact that I'm so much older than him.
3:31 p.m. He tells me he hasn't had sex in six months. I suspect that he's concerned about something, not to mention slightly insecure about his body. I tell him to stop apologizing, that it's not sexy. After grabbing some condoms, I get on top of him. He tells me immediately that if I continue riding him he'll come. I tell him that if he's going to come after two minutes, he should be ready for rounds two and three.
3:33 p.m. Shortest round one I've had in my life. I'm only willing to deal with a two-pump chump because of my strong suspicion that as a 22-year-old, he'll be able to get it up again very quickly. He starts talking about STDs and testing. I tell him that I appreciate his responsibility and maturity in bringing it up, but next time he should do it before he has any kind of sex with someone. I think he's a little miffed that I didn't give him a blow job, but I don't usually do that with anyone besides my partner.
3:48–4:30 p.m. We have sex again, but he doesn't come again. I'm not usually focused on an end goal, so this doesn't worry me. He tried some light choking and hair pulling, and I really had to stifle a laugh — every young guy I've been with tries this. I think they think they're being racy, and for me, most of the time, it's not even fetish-light. We chat a little bit about sex, technique, orgasm, and non-monogamy, all of which blow his mind a little. I enjoy discussing my non-monogamous relationship. My partner and I have a very healthy and rewarding relationship, and I'm happy to be a poster child for non-monogamy when given the opportunity. I then tell him that he should call his friends to come pick him up.
6:00 p.m. I text a friend to let her know that Army Guy has left and that I'm still alive.
9:45 p.m. The party is in full swing, and I am a flirting machine: There are a couple of guys here I know, including someone who only recently caught my eye even though I've known him for a year or so. It's amazing who gets on my radar if they are slightly flirtatious. I rub against him whenever possible. We discuss fetishes (shout out for fetish rights!), and I find out that he is way kinkier than I even knew. Don't judge a book by its cover! (I actually say that out loud to him.)
10:15 p.m. I'm making out in the bathroom with a different guy who's been trying to hang out with me for the last month. He's not that attractive, but it's fun. About an hour later, I go home.
DAY FOUR
9:45 a.m. I wake up, text my partner, and ask him if he'd like to join me in bed. Forty-five minutes later, he's still not here. I text him again and ask if I should have someone else come over and keep me company. Immediately he says that he's on his way.
9:50 a.m. We spend some time snuggling and catching up. When we move to sex, he wants me to tell him about my experience yesterday afternoon. I get that hearing about it while we're fucking is his way of processing it, but I don't always want to turn that side of my brain on, especially since I've really been into quiet sex lately. We then proceed to have some anal play. Afterward, we lie around and lounge for a couple of hours. We don't usually have enough time for this, and I really, really love it. I enjoy being with other people and then experiencing the familiarity of his body.
4:15 p.m. I go to a yoga class.
6:23 p.m. I text my partner and ask him about dinner. He says he's watching a movie with S, an ex and current dear friend. We had a long and stormy history with her, but that's water under the bridge now. I tell him that I'm only interested in being close to him, and him alone, preferably on a couch or in a bed. I decide I'll head to his place at 8 p.m., when she's gone.
DAY FIVE
7:30 a.m. My partner and I don't have sex this morning because he has somewhere to be.
11:00 a.m. Today, I'm meeting up with a dear friend and sometime lover, the Traveler, who's been away. I'm really looking forward to seeing him. I want to bring a slice of cake, but that seems presumptuous. I put condoms in my purse though, just in case.
8:00 p.m. The Traveler and I head out for drinks and dinner. The night is very platonic; there isn't even any real flirting to speak of. We go home separately.
DAY SIX
12:39 p.m. Don't Judge a Book by Its Cover texts me to say, "Let me know when you're ready to open the book ;)" — that's clever. He then texts again to confirm that my partner and I have an open relationship, as he wants to be considerate and not cause any issues. I tell him yes, it's cool.
5:00 p.m. I start getting ready for my date with the Bartender. We're going to start out at a bar and restaurant that has cozy, secluded booths.
7:45 p.m. I'm practically on the Bartender's lap, and we're kissing. The setting is perfect: It's a dark and private booth. We make out some more but nothing else. Earlier I had suggested going to my place for another drink, but I think he wants to keep it PG since he's not technically in an open relationship anymore.
DAY SEVEN
9:00 p.m. I'm not feeling well, so I have to back out of a pool-lounge date with the Traveler.
2:00 a.m. My partner comes over, and we have fantastic sex, over and over again, for the next three hours. Then he goes back to work.
Want to submit a sex diary? Email sexdiaries@nymag.com and tell us a little about yourself.