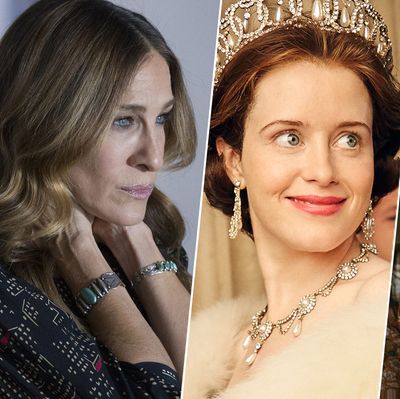 Sarah Jessica Parker in Divorce, Claire Foy in The Crown, Rutina Wesley in Queen Sugar.
Photo: Courtesy of Craig Blankenhorn/HBO; Robert Viglasky/Netflix; OWN
Fall-TV season is upon us, and once again, there are way too many shows for even the most seasoned binge-watcher to begin wading through. But the upside of our overstuffed Peak TV era is that we're seeing more and more shows starring and created by women, with a glut of excellent female-led comedies and visionary auteurs like Ava DuVernay and Jill Soloway telling stories — particularly the stories of LGBT women and women of color — that have long been excluded from the TV landscape. Here are some of the women remaking TV in their image this fall:

Aya Cash continues to plumb the darkness on You're the Worst, August 31 on FX.
Last season brought new depths to FX's racy relationship comedy, thanks largely to Aya Cash's humanizing and sensitive depiction of what it means to live with severe clinical depression. In season three, Gretchen seeks help from a therapist (played by Orange Is the New Black's Samira Wiley!), which doesn't mean she (or the gang, particularly Kether Donohue's glorious hot mess Lindsay) have renounced their dirt-bag ways.
Ava DuVernay and Oprah Winfrey continue their partnership with Queen Sugar, September 6 on OWN.
Ava DuVernay and Oprah Winfrey's new OWN drama, led by DuVernay and helmed entirely by female directors, centers on three estranged siblings Nova (Rutina Wesley), Charley (Dawn-Lyen Gardner), and Ralph Angel (Kofi Siriboe) who are forced back into each other's lives when they inherit their family's sugar-cane farm. The trailer promises an intense family drama set against the fraught backdrop of race relations in the Deep South, and it sounds like it's going to be a major conversation starter. "I'm telling you," Oprah promises, "black Twitter is gonna blow up."
Pamela Adlon scratches our Louie itch with Better Things, September 8 on FX.
Pamela Adlon and Louis C.K. are following up Louie with another darkly funny, semi-autobiographical parenting show. This time, Adlon (a regular Louie guest star in addition to being a writer and producer) stars as a working actor raising three girls on her own, bringing her unique brand of brash sarcasm to all manner of parenting crises.
Tig Notaro makes us laugh-cry on One Mississippi, September 9 on Amazon.
Amazon Video – a.k.a. the house that Jill Soloway built – is quickly establishing itself as one of the premier destinations for female auteurs. This year, we're particularly excited about One Mississippi from comedian Tig Notaro, a dark comedy based on the comedian's own experience coming to terms with her mother's death. Like Notaro's other semi-autobiographical projects, One Mississippi expertly blends humor with moments of intense pathos, creating, to quote Margaret Lyons, "a beautiful show that's thoughtful and gentle and special."
Kylie Bunbury stars as a female MLB pitcher in Pitch, September 22 on Fox.
If the Olympics made you hungry for more female excellence, try your hand at Pitch, a new Fox drama about the first woman to play in the MLB. Lead actress Kylie Bunbury gives off serious Mo'ne Davis vibes as star pitcher Ginny Baker, who is determined to prove that even women can do sports! We back it.

Jill Soloway continues to make magic with Transparent, September 23 on Amazon.
Jill Soloway's groundbreaking hit Transparent looks well-poised to continue its Emmy-winning streak when it returns in late September. This season, we'll see flashbacks to Maura's (Jeffrey Tambor) childhood as we explore how her transition impacts the rest of the Pfefferman clan, who are all still dealing with plenty of sex, love, and identity quandaries of their own. As Shelly (Judith Light) says in the trailer: "When one person in a family transitions, everyone transitions." If you need another Soloway fix to tide you over in the meantime, check out her new pilot I Love Dick, starring Kathryn Hahn.
Sutton Foster, Debi Mazar, and Hilary Duff keep acting Younger, September 28 on TV Land.
Sex and the City's true spiritual heir — starring Foster as a 40-year-old divorcée pretending to be 26 and Duff and Mazar as her pals — is back for its third season, promising more girl talk, more age-swapping hijinks, and plenty of juicy ripped-from-media-Twitter plotlines.
Issa Rae brings her awkward charm to Insecure, October 9 on HBO.
After much anticipation, Issa Rae's follow-up to her beloved web series Awkward Black Girl is finally heading to HBO. Co-created by Larry Wilmore and starring Rae and Yvonne Orji as two best friends living in South L.A., the show is Rae's "rebellion against the idea that 'there's a universal way to be black."
Sarah Jessica Parker and Sharon Horgan join forces for Divorce, October 9 on HBO.
After serving as the defining voice for a generation of 30-somethings who aspired to vast shoe closets and extensive sexual Rolodexes, Sarah Jessica Parker is tackling yet another stage in the female romantic life cycle with her HBO show Divorce. Sharon Horgan — the star and co-creator of the very funny Catastrophe — created the series, so we're expecting some good laughs along with SJP's familiar frazzled charm.
Gina Rodriguez is pure heart in Jane the Virgin, October 17 on the CW.
TV's most heart-filled rom-com, starring the luminous Gina Rodriguez as a young Latina woman who accidentally becomes pregnant via artificial insemination, is also one of the most inventive shows on TV, expertly riffing on the telenovela format and handling complex themes like immigration with its signature light touch. Season two ended with a bang and a lot of tears; it's not too late to jump on the bandwagon!
Rachel Bloom serves up a sophomore season of Crazy Ex-Girlfriend, October 21 on the CW.
Just a few days after Jane returns, it's time for season two of Crazy Ex- Girlfriend (god bless the CW). Rachel Bloom's delightful genre-bending musical-comedy about a high-flying lawyer who upends her life and moves to small-town California to pursue her college ex-boyfriend was one of the most surprising hits of last season, serving up psychological realness along with its upbeat sing-a-longs. As Matt Zoller Seitz writes, Crazy Ex-Girlfriend "demonstrates the near-total creative freedom of TV's latest evolutionary period better than any other."
Claire Foy plays a young Queen Elizabeth II on The Crown,
November 4 on Netflix.
If any show will be able to fill the Downton Abbey–shaped void in our hearts it's The Crown, a highbrow period drama about the early years of Queen Elizabeth II, from her wedding in 1947 to the present day. Starring Claire Foy, who played a pitch-perfect Anne Boleyn in Wolf Hall, and created by Peter Morgan, who wrote Oscar-baity flicks The Queen and Frost/Nixon, The Crown looks like a fascinating exploration into the monarchy's evolving postwar gender dynamics, as well as Elizabeth's fraught relationship with prime minister Winston Churchill (John Lithgow) and her husband, Prince Philip (Dr. Who's Matt Smith). The costumes and set also look lavish as hell, as they should — The Crown is Netflix's most expensive project to date.
Lauren Graham and Alexis Bledel are back for Gilmore Girls: A Year in the Life, November 25 on Netflix.
After nine years off the air, Rory and Lorelai are heading to Netflix for a four-part follow-up to the beloved CW series, and they're still slinging pop-culture references, yammering at each other a mile a minute, and, of course, following where the other leads.
Mariah Carey takes us inside Mariah's World, December 4 on E!
In this eight-part TV event, our favorite elusive chanteuse sings, struts, and sips Champagne while preparing for her "Sweet Fantasy" world tour and her wedding to Aussie billionaire James Packer (as she puts it: "the most important event that ever happened") while doling out her usual array of not-so-relatable quotables. "I have a rule that I will not be seen in fluorescent lighting without sunglasses, I know it's very '90s," she purrs at one point from behind massive shades. Never change, Mimi.