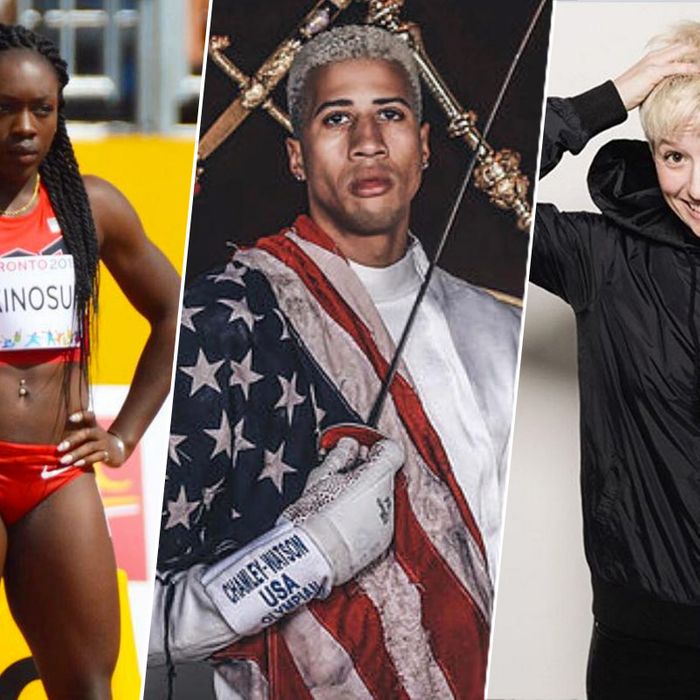 Photo: Courtesy of Instagram/msfasttwitch; mchamleywatson; mrapinoe
True, we can't actually infiltrate the Olympic Village in Rio, but social media is the next best thing: The 554 U.S. athletes competing in this summer's Games are an Instagram-friendly bunch. Here are a few of our favorites to check out between watching them compete.
Ibtihaj Muhammad, fencing: Follow for photos with President Barack Obama (!), plus countless magazine features.
Max Holt, volleyball: Follow to appreciate his multitude of talents, from playing guitar to taking mirror photos while managing to look cool.
Kerri Walsh Jennings, volleyball: Follow for a look at life on the road as a gold-medal winner and mother of three.
DeMarcus Cousins, basketball: Follow to see his pro career — he's also on the Sacramento Kings.
Jake Dalton, gymnastics: Follow for frequent dog photos and big muscles.
Ryan Lochte, swimming: Follow for blue hair.
Gabby Douglas, gymnastics: Follow for a reminder of how young she was when she won gold in 2012! Gabby's now 20, and her Instagram is a professional balance of selfies and Gabbymoji.
Miles Chamley-Watson, fencing: Follow for a closer look at the tattoos and blond hair he's showed off in the pages of Vogue and Vanity Fair.
Dagmara Wozniak, fencing: Follow for recipes and Pilates.
Kassidy Cook, diving: Follow for rock-hard abs, gravity-defying videos of dive practice, and photos of the 21-year-old's life with friends.
Claressa Shields, boxing: Follow for pure happiness — Shields's smile alone is motivational. Her feed balances red-carpet fashion and knockout photos from the ring.
Morolake Akinosun, track and field: Follow for some of the best track photos on Instagram, a bomb Formation Tour outfit, and the Tweet she posted five years ago that predicted her future.
Michael Phelps, swimming: Follow for lots of photos of his baby, Boomer Phelps.
Deajah Stevens, track and field: Follow for Friday-night outfit ideas, plus a glimpse of what it looks like when you cross the finish line to find out you're going to Rio.
Mariya Koroleva, synchronized swimming: Follow for a look at what synchronized-swimmer swimsuits look like (hint: more sparkly than you imagined).
Serena Williams, tennis: Follow for aspirational selfies and celebrity appearances by Ciara and Princess Kate — really, though, you don't need those reasons. She's Serena Williams.
Kendrick Farris, weightlifting: Follow for videos of what it looks like to lift over 500 pounds. (Over. 500. Pounds.)
Helen Maroulis, wrestling: Follow for a look at how Olympic wrestling training transforms a woman's body (it's incredible).
Kevin Cordes, swimming: Follow for world travel, including stand-up paddleboarding on Lake Michigan and kangaroo selfies in Australia.
Carlin Isles, rugby: Follow for videos of him shirtless, ripped, and singing.
Mackenzie Brown, archery: Follow for lots of recipes and a look at a real-life Katniss.
Tobin Heath, soccer: Follow for trophies on trophies, plus, that swan-pool toy everyone else has on their Instagram — but this time with an Olympic soccer player on it.