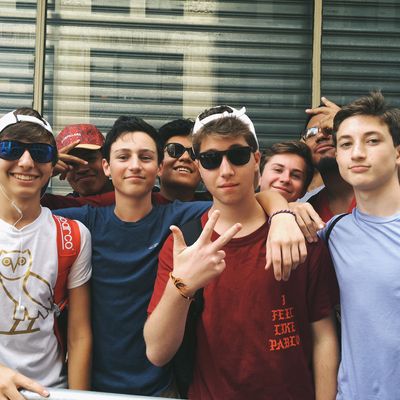 On Thursday night at 6:05 p.m., Kanye West announced on Twitter that he would be opening 21 pop-up shops selling Life of Pablo merch. At 1:30 today, the New York location — at the Supermarket in Tribeca — was packed. Superfans, many of them very young, waited in a line that wrapped around several blocks. What made them believe so fervently in Kanye? We asked a few.
CARLO, 13
What makes you believe in Kanye and his vision?
"Because he's Kanye."
What makes you buy his designs?
"Because he's Kanye."
JASON, 39
"I'm from Chicago. I've run into him a few times along the way and everything. He's been cool. I'm really just trying to buy some stuff and flip it on eBay. I was coming home from a bar, I saw the line, and I was like, 'Oh, I can jump in here now instead of going home.' And I was No. 70 when I got here, at 3 a.m. They split the line at the door and the whole time we've been watching people go in and out, pay people to go back in. I literally watched someone go in, come back, and jump into the line and go back in."
What advice would you give to people at the back of the line?
"Yeah, that's not gonna work out."
MATAN, 17
"He's all about positivity. Kanye West is straight-up all about positivity."
ALYSSA, 22
"I just think he's open-minded and says what he wants to say. Everything he makes is so chill, like the ripped-up look. I'm going to go to his New York Fashion Week show and concert. I got this shirt last year for Yeezy season three, the tickets, it was a whole package."
BEN, 12
"He's a god. His music is insane. I'm going to buy everything. I went to the Supreme drop yesterday because I'm just trying to get money."
PATRICIA, 24
"The thing about him that makes people line up for hours is that he has more than one interest and he's very passionate with everything he does."
ERIC, 28
"Ye is the greatest. Everything he does has a purpose to it to make the world better for everyone. I think what he's proven with everything else is that his fashion is going to succeed."
LIL JJ, 19
"I mean, Kanye West's just Kanye West. There's not more or less you can say about Kanye West, he's just Mr. West!"
Are you planning on going to his NYFW show?
"I already got tickets."
Are you planning on going to his concert?
"I already got tickets as well!"
What are you going to do with all those clothes?
"Flipping them. Everything is for the flip. I got some stuff for me, but the rest is for a profit!"