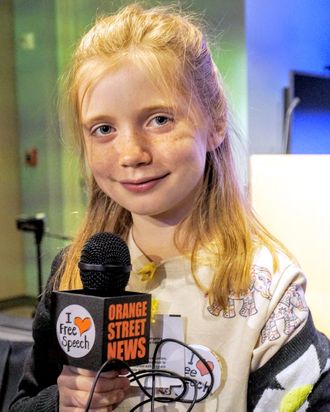 Hilde Kate Lysiak.
Photo: James Morehead
From the alleyway behind her house, Hilde Lysiak starts walking her paper route. It's a sunny spring day in Selinsgrove, a small town in central Pennsylvania located on the banks of the ambling, island-dotted Susquehanna River. Hilde is 9 years old. Her strawberry-blonde hair is partially braided to keep it out of her face, and a constellation of pale freckles runs across her cheeks. She's wearing a white crochet-knit dress over jeans and black sandals, paired with a sleeveless vest covered in large, multicolored polka dots. The bag she's carrying her papers in — a blue Google News tote picked up from a recent trip to California — is wider than her torso. She has the handle hanging comfortably from around her neck.
Dogs rush the neighbors' backyard fences to bark, but Hilde ignores them. "There's like, so many different ways you can go," she says, in her tiny 9-year-old's voice, as she points out the different routes she takes to deliver her paper: "You can go down that way and come around this way, or you can go down that street and go this way, or you can turn down that street." Today she chooses the path that takes her to Spruce Street, where she'll cross the railroad tracks, go past an old auto-repair shop, and make her way toward the downtown cluster of restaurants and antique shops.
You may remember Hilde Lysiak from the time she spent atop your Facebook News Feed in April. She's the girl who broke the story of a murder in her hometown for her very own newspaper, the Orange Street News, beating out the local competition and, when faced with an onslaught of abusive online comments from posters suggesting she should be having "tea parties," instead made a video in which she defiantly responded to her haters, refusing to back down. The story — about a kid doing something gutsy, and then firing back at the critics — had just the right mix of share-worthy novelty and girl power to go viral. Hillary Clinton congratulated her via Facebook, Good Morning America called with an invite for Hilde to appear on the show, and the Tribeca Film Festival honored her and her sister Izzy, who helped with the reporting, onstage at the Disruptive Innovation Awards — alongside luminaries like Lin-Manuel Miranda, actor Nate Parker, and Edward Snowden, who appeared via livestream. Hilde's story is a rare bright spot in an otherwise-bleak media landscape — the appeal is strong enough that Scholastic recently announced a four-book series with the cub reporter called Hilde Cracks the Case, based loosely on her own reporting adventures.
All of this has made Hilde something of a local celebrity. "Is this the famous girl who writes my local paper?!" a burly man in polarized sunglasses working a construction site says as Hilde approaches. "Can I get a photograph?" He hands me a dusty cell phone and squats down next to Hilde as I snap a photo. "You keep up the good work!"
For a young internet celebrity, Hilde is still, very refreshingly, a kid. After she returns from her paper route, she deposits her shoes on the welcome mat, which are cluttered with flip-flops and galoshes, and takes me upstairs to her third-floor bedroom to show me the latest potion she made (a mix of two different kinds of VO5 shampoo, run through a Play-Doh ice-cream maker), as well as her Barbie dollhouses, Barbie garage, Barbie mall, Barbie escalator, Barbie stage, Barbie horse stable, and Barbie cruise ship. "I absolutely love Taylor Swift, I don't just like her," she pointedly corrects me, when I point out the poster of the pop star on her wall.
Her paper started as a family-only news outlet written in crayon, not long after she, her parents, and her sisters Izzy and Georgie moved from Bay Ridge, Brooklyn, to Selinsgrove, in 2013. When they lived in Brooklyn, Hilde's mom, Bridget Lysiak, was a freelance writer and her dad, Matt, worked for the New York Daily News.
"I went with my dad a lot when he did reporting," Hilde says, sitting on an upholstered yellow couch in the thrifty-chic front parlor of their home on Orange Street, which has walls the color of cantaloupes. Beside her is Bridget, who's wearing a striped summer maxidress, and her older sister, Izzy, a 12-year-old budding actress who pens an advice column for Hilde's competing newspaper, and who looks like Hilde's taller twin. Their dogs, Archie and Bismarck, jump from lap to lap before settling down to doze beside them, while their younger sister Georgie, 4, toddles around in pigtails and a yellow floral dress. Matt — whose long, curly hair is poking out from beneath a baseball cap — serves me a Buffalo Bills coffee cup filled with Baileys Irish Cream before sitting down. His and Bridget's youngest, Juliet, is asleep upstairs.
Matt was the Daily News' morning runner — the guy who woke up each morning and hopped on the breaking news of the day — and for years, it was a thrilling job, if not a very flexible one. After the girls were born he tried to extend his time with them by taking them on reporting trips. The first event he remembers bringing Hilde to was a stakeout of Vito Fossella, a former New York Republican who was forced to resign from Congress because of an extramarital affair and a DUI (though Hilde and her sister recall more fondly the time they got to stake out Lindsay Lohan's family's apartment). Soon, those reporting assignments were getting longer and taking Matt farther away. Still, he brought Hilde to Cocoa Beach, Florida, while he covered the trial of George Zimmerman, and Charleston, South Carolina, while he covered the Emanuel AME church shooting. At the end of 2012, he was assigned to cover the Sandy Hook school shooting. He didn't bring Hilde for that one.
After meeting so many parents who would never see their kids grow up, Matt began to reassess his priorities. "It wasn't just that I wanted to spend more time with my kids. That was a big part of it," he says, stretching his legs as he sits across from them. "When I moved to New York I had these dreams and aspirations of becoming a reporter. For a little while I was able to live that, but then I became really disenchanted." During Matt's time there, journalism itself saw massive seismic shifts. He saw circulation drop off and the pressure for quick-hit journalism increase. "When I got to the publication I worked at I felt like I was doing real journalism once a week, and that was enough for me. Toward the end it was a few times a year if I was lucky … I began, toward the end, despising journalism," he says.
Matt and Bridget had practical concerns, too. They and their three daughters were sharing a two-bedroom apartment, and they wanted a chance for their kids to grow up outside of the New York pressure cooker. In May 2013, the Daily News laid off 15 staffers. The same month, Matt was offered a book deal based on his reporting on Sandy Hook. He was given an advance and four months of leave to write it. "It was like, Okay, if we're going to leave, it's now or never," Bridget says.
They left New York for central Pennsylvania and never came back. Now Matt keeps an office upstairs in their house, where he writes a mix of reported nonfiction and young-adult horror. Hilde sits right beside him at a desk of her own, littered with court documents and her own drawings. Next to the desk, Matt made note cards for her corkboard defining ledes, quotes, and kickers.
Hilde's first news story was a scoop on the birth of Juliet, just before Hilde turned 8. "When Hilde started doing this, we kind of blew it off at first," Matt says, but "she kept doing it." Eventually, Hilde outgrew the print edition and decided she wanted to go digital. "I literally remember her saying to me, 'This isn't getting me anywhere,'" he says.
Soon the paper went online, and its scope expanded too: Hilde began riding her bike around town on her own. It was a way for her to explore and to overcome a bit of natural shyness. Eventually, she knew more people in town than her parents did, and the paper, which they'd started printing at home, graduated to a professional printer. She distributes about 800 copies and offers subscriptions for $15 a year.
On the April day when Hilde broke the murder story, she was out covering the local Chocolate Stroll, "sampling all the different kinds of chocolates — muffins, doughnuts, everything — milkshakes, chocolate mochas …" she says, with the reverence of a candy-loving kid — when she got a call from her dad. A tip had arrived in her email account (which is screened by her parents) saying that a suspect had been arrested in a vandalism case that Hilde had been covering. Vandalism is one of Hilde's biggest beats — she thinks it's a major problem affecting Selinsgrove's community — so she raced to the local police station to try to land an interview. She staked out the office for about an hour — a cop told her that the vandal had been arrested, but wouldn't give her the name — and when it ended, she went home. There, Hilde learned from her dad that she'd received another email, this time about a murder on 9th Street, a few blocks away.
Bridget dropped her off near the house, which by then was surrounded with police. She began working the crime scene, approaching officers, but they ignored her. "It was frustrating. Nobody would talk to me. No one," Hilde says. So she started knocking on neighbors' doors. How exactly Hilde confirmed the story is a little murky — her sources were anonymous — but she was right: There had indeed been a murder, and she was ahead of the local competition. Her dad posted the story on her website with a Drudge Report–style siren, under the headline: "Exclusive! Murder on Ninth Street!" "The suspected murdered was a retired school teacher at Selinsgrove and the victim also worked as branch manager at a local bank on Market Street, according to neighbors," Hilde wrote. It contained a short video of her, complete with a local-news-style opening credit, reporting from the scene. Under the piece, she added: "MUST CREDIT THE ORANGE STREET NEWS! THIS IS A BREAKING STORY. CHECK BACK FOR UPDATES."
People in town had liked the Orange Street News when its young reporter was covering hero dogs and local charities, but they didn't like the idea of a little girl covering something as serious as a murder. "People were really nasty," says Matt. "The majority was like, 'Do you guys realize this is a kid doing this? This is absurd. What's wrong with her parents?'"
"I mean, with the murder, I don't think it's totally irrational for people to question if it's an appropriate place for a kid," Bridget says. "That doesn't bother me. I disagree, but I don't think it's nuts."
Hilde's parents decided to let her know about the backlash. "We had a talk. We felt like it was important for her to know what people were saying," Matt says. She and Izzy talked it over, and the two decided they wanted to post a video response. "I just wanted a way to tell people that just because I'm a kid doesn't mean I can't do great things," Hilde says.
The next day, they posted a new video that featured Hilde wearing a large red bow on her head and a button that reads "I
After the story went viral, the negative comments were soon replaced with hundreds of variations of "you go, girl!" Her parents made some concessions to Hilde's newfound fame, but they tried not to let it take over her life. "We got, I think, 300 media requests, but we've been really guarded," Matt says. "She's so unaware of all of the media coverage, to a degree."
For Matt, Hilde's passion has helped him remember why he got into journalism in the first place. "I've sort of recaptured my love of it because what she does is so simple. She goes to the scene and she just gets the information," he says. "You forget, with how complicated things get. It's actually very simple, and she's doing it. I love it." As for what she wants to do when she grows up, Hilde told her dad she wants to run her own paper. "She told me she wants it to be bigger than the Daily News," he says.
For now, Hilde is content working the beat. As we deliver papers, she points out the plot of earth where a building was recently knocked down, the tiny police station, and the plaza outside the library where a vandal recently tore up a flowerpot. Then she heads to the Borough Office building and hands off the latest issue to the front-desk attendant, followed by the Cottage on Pine, a local antique store filled with vintage Fiestaware, embroidered pillows, and dishes of marbles. As she's leaving, she gets a story tip: "Hilde!" the shop's owner calls after her. "I wanted to tell you, over the weekend my neighbor and the lady who owns that jewelry store," the woman says, pointing in the direction of the shop — "both had their flowerpots stolen."
"Will you be able to email me this?" Hilde asks. She recites her email address, thanks the woman for the tip, and says, "I'm going to have to write this down," whipping out her notebook and a black pen. A few days later, her story on the stolen flowerpots is up on the website.