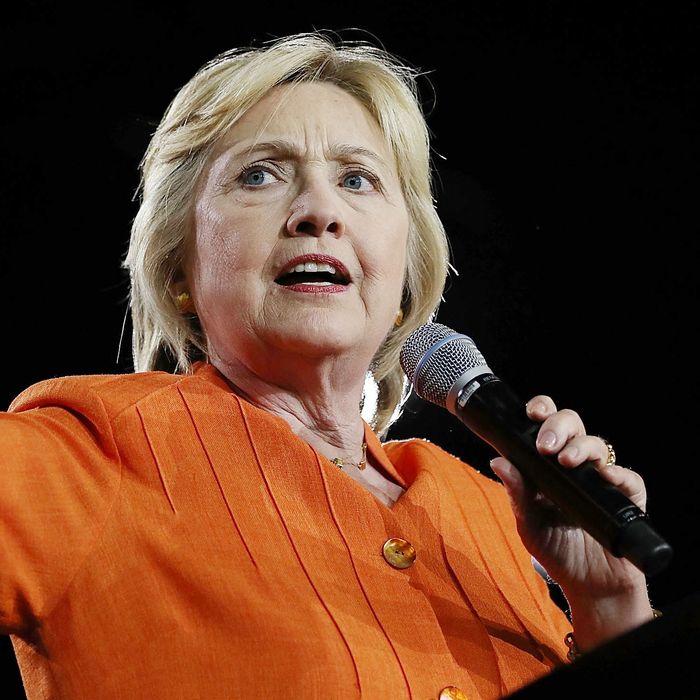 Electing Hillary Clinton won't magically fix sexism.
Photo: Joe Raedle/Getty Images
Hillary Clinton's historic nomination may have broken through the "highest, hardest glass ceiling," but even if she's elected, most Americans aren't dumb enough to think her presidency would mean women will suddenly be treated equally. According to a new survey from the Associated Press and the NORC Center for Public Affairs Research that polled 1,096 adults,* 60 percent believe a Clinton presidency will have no effect on the level of discrimination against women, and just 25 percent said they expect conditions for women to improve.
Unlike respondents to a recent Pew Research Center survey, the majority of those polled at least acknowledge that sexism exists — about half think women still have fewer opportunities in politics than men do, the researchers note. And although three-quarters say discrimination against women has decreased over the past two decades, an equal number say it continues to be an issue for American women today.
When it comes to Clinton, 29 percent believe her gender will hurt her chances of being elected, and 28 percent think she's being held to a higher standard than her fellow candidates because she's a woman. What's more, 70 percent said the historic nature of her candidacy wouldn't have an effect on how they vote in November.
As the Atlantic points out, just as an Obama presidency didn't erase racism, a Hillary Clinton presidency won't get rid of sexism — in fact, there's a good chance it will only get worse.
*This post has been changed to reflect that the survey was administered to American adults of all ages, not just those between the ages of 18–30.