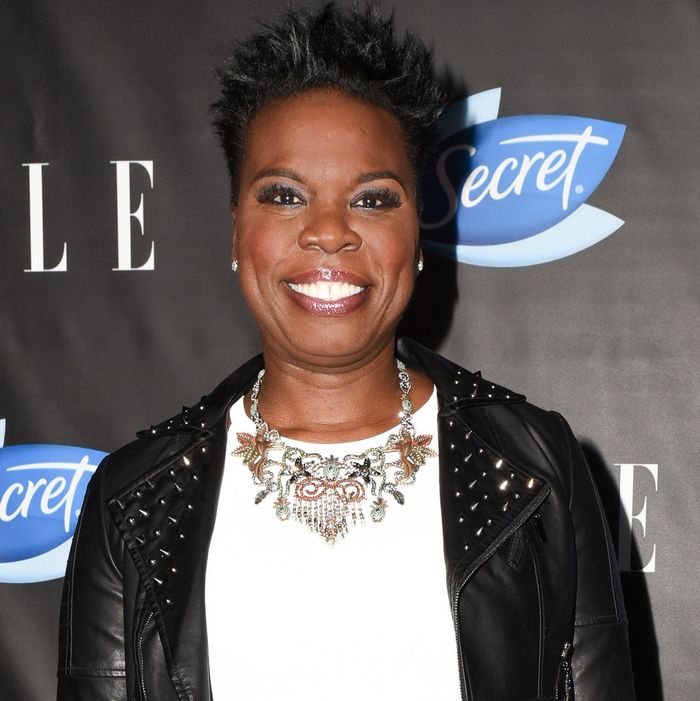 Leslie Jones
Photo: Owen Kolasinski/BFA.com
Today in awful news, Leslie Jones's personal website has been taken down after being targeted by a vicious hack. Hackers infiltrated the site with what appeared to be naked photos of the comedian, as well as images of her passport and driver's license, private photos of her with various celebrities, and a photo of dead gorilla (and meme that refuses to die) Harambe.

Sadly, it's not the first time Jones has been the target of online trolls. Last month, the comedian's Twitter account was inundated with racist and sexist hate speech associated with her role in Paul Feig's inexplicably controversial all-female Ghostbusters reboot, and Twitter pledged to reform their harassment policies in response. A brief rundown of what led us to this ugly place:

March 3 — The first Ghostbusters trailer hits YouTube and becomes the most unpopular trailer in the site's history, receiving countless misogynistic comments. This vitriolic discourse would come to dominate the rest of the film's rollout.

June 21 — Paul Feig and his cast address their haters in the Times. "To me, the people who are crying about, 'This is ruining my childhood,' this movie is not for them anyway," said Jones.

July 11 — The movie comes out.
July 18 — Milo Yiannopoulos, the alt-right commenter and professional troll who has spearheaded many an online harassment campaign, posted a negative review of Ghostbusters on Breitbart that dissed Jones's "flat-as-a-pancake black stylings." A number of his followers and other members of the alt-right community began to troll Jones with sexist and racist comments and hateful memes. The tenor and frequency of these hate-tweets ramped up when Yiannopoulos began tweeting at Jones directly as well as sharing fake tweets pretending to be from Jones.
In response, Jones began retweeting some of the vitriol being sent her way in order to draw attention to it, as well as expressing her sadness and imploring Twitter to improve its harassment policies.


That evening, she tweeted that she would be leaving the site temporarily.


July 19 — Fans launch a hashtag called #LoveForLeslieJ with a number of celebrities including Paul Feig, Elizabeth Banks, and James Corden tweeting their support.



That night, Twitter founder and CEO Jack Dorsey reaches out to Leslie and tells her to "DM him." The company also releases the following statement:

"This type of abusive behavior is not permitted on Twitter, and we've taken action on many of the accounts reported to us by both Leslie and others. We rely on people to report this type of behavior to us but we are continuing to invest heavily in improving our tools and enforcement systems to prevent this kind of abuse. We realize we still have a lot of work in front of us before Twitter is where it should be on how we handle these issues."
July 20 — Twitter permanently bans Yiannopoulos from Twitter and releases another statement:
"Over the past 48 hours in particular, we've seen an uptick in the number of accounts violating these policies and have taken enforcement actions against these accounts, ranging from warnings that also require the deletion of Tweets violating our policies to permanent suspension, We know many people believe we have not done enough to curb this type of behavior on Twitter. We agree. We are continuing to invest heavily in improving our tools and enforcement systems to better allow us to identify and take faster action on abuse as it's happening and prevent repeat offenders. We have been in the process of reviewing our hateful conduct policy to prohibit additional types of abusive behavior and allow more types of reporting, with the goal of reducing the burden on the person being targeted. We'll provide more details on those changes in the coming weeks."
Yiannopolous hits back:
"With the cowardly suspension of my account, Twitter has confirmed itself as a safe space for Muslim terrorists and Black Lives Matter extremists, but a no-go zone for conservatives."
July 21 — Jones returns to Twitter.
Over the next few weeks, Jones's Olympics commentary leads NBC to invite her to Rio to cover the games. It's a heartwarming Cinderella story that briefly makes us believe that the internet can be a force for good (how young and naïve we were!).
July 22 — Jones speaks about the abuse on Late Night With Seth Meyers, saying that she met with Jack Dorsey and he helped her get a number of accounts taken down. Clarifying that she never left the site, just took a brief hiatus, Jones said she wanted to draw a distinction between "hate speech and freedom of speech."

"What's scary about the whole thing is that the insults didn't hurt me. Unfortunately I'm used to the insults. That's unfortunate," she told Meyers. "But what scared me was the injustice of a gang of people jumping against you for such a sick cause."

August 8 — A wise child briefly makes us feel better about the state of the world.
August 15 — When Olympic gymnast Gabby Douglas becomes the target of online trolls, proving once again how hard it is to be a black woman online, Jones rallies support for her.
August 18 — In its first major update since the harassment occurred, Twitter announced the introduction of a "quality filter" for all users.
August 24 — After a brief period of quiet, Jones's site is subject to a horrific hack. Our faith in humanity plummets once again.