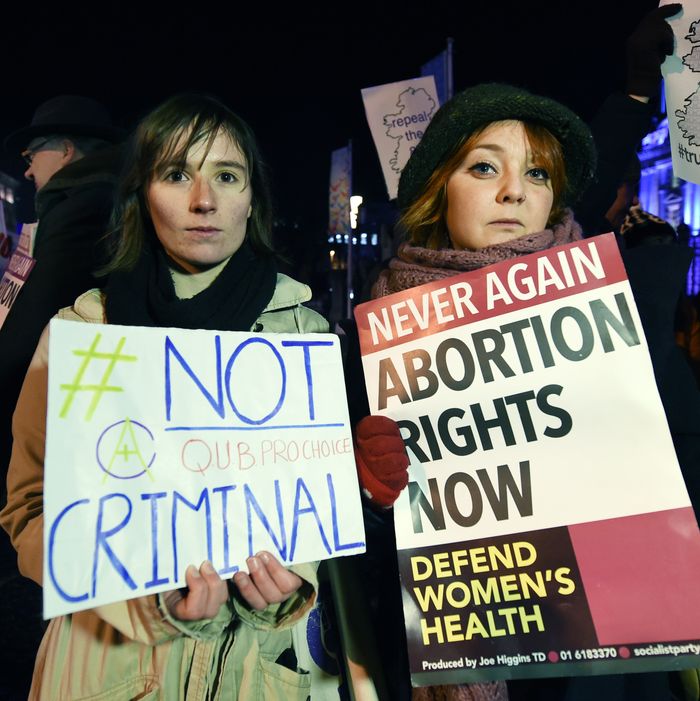 Photo: Charles McQuillan/Getty Images
An anonymous woman and her friend are live-tweeting their journey from Ireland to England to obtain an abortion using the anonymous account @TwoWomenTravel. Their journey started around 5 a.m. UK time, and the trip officially began with the tweet, "Good morning all. Thanks for all of the messages of solidarity and support. Thanks to @EndaKennyTD we're about to hit the road. #twowomentravel."
Each tweet includes a mention of Irish Prime Minister Enda Kenny, who is under increasing pressure to repeal the eighth amendment of the Irish constitution. This is the latest in high-profile protests against the amendment, which bans abortion and offers a fetus the same rights as the woman carrying it. The U.N. has called for Ireland to repeal the amendment, calling it a violation of a pregnant woman's human rights, but only in cases of fatal fetal abnormalities.
According to The Guardian, it's estimated that "about 10 women a day" travel from Ireland to other countries to get the procedure without fear of criminal prosecution.
People around the world are tweeting in solidarity with #twowomentravel.