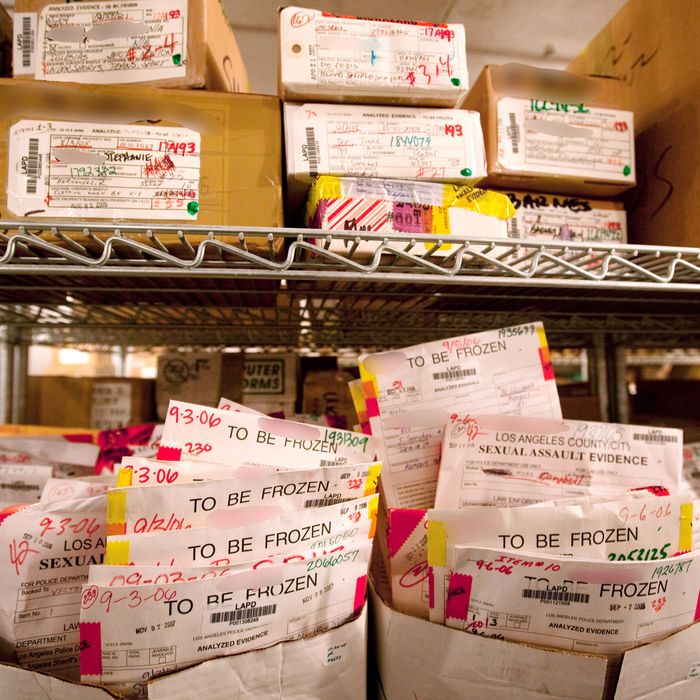 Rape kits sit in storage.
Photo: Ted Soqui Photography/Getty Images
When a sexual-assault victim reports an incident to police, they'll often be given a rape kit, which includes checklists, forms, and materials to collect DNA evidence and conduct a forensic exam. In theory, the samples in these kits are processed and entered into a database, which helps to identify perpetrators of sexual assault. But in practice (and despite the U.S. government's commitment to the cause) there's currently an estimated backlog of 400,000 untested rape kits in the United States.
But a group called Test400K is hoping to change that. According to the Huffington Post, the group is sending rape kits to every single governor in the United States to urge them to speed up testing in their states. Part of the problem is that there's no way to track a kit once it's been turned over to police — this was made painfully clear when, in 2008, 11,000 untested rape kits were discovered in an abandoned storage unit in Detroit. Test400K is advocating for a new tracking system, which would let police and victims track kits from the hospital to the crime lab, à la FedEx.
Along with the rape kit, each governor will reportedly receive a log-in code to test the new tracking system. Test400K will release the link to each governor's tracking code on its website so users can see which lawmakers have logged in to endorse rape-kit testing.
Testing the kits isn't just the ethical thing to do — it also works. When the Department of Justice gave Ohio a grant to test a backlog of 4,800 rape kits, the results led to more than 250 convictions. And when researchers at Case Western Reserve University were given access to 248 of those case files, they found that 51 percent of the sexual assaults were tied to serial rapists.
"These are one-man crime waves," an Ohio prosecutor said at the time. "And now that we realize this, we cannot allow these kits to sit on shelves untested in the future. They hold the keys to identifying and convicting dangerous criminals."