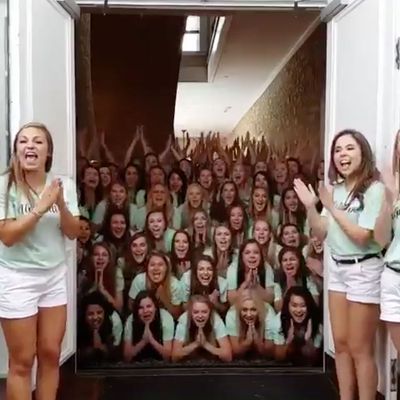 College is a magical time — a time for learning, for self-discovery, for developing lifelong friendships, and, of course, a time for getting locked in a sorority house with dozens of other identical young women, doomed to recite the same peppy chant over and over for all of eternity.
A group of Alpha Delta Pi women at the University of Texas at Austin released their recruitment video on Wednesday, which has since gone viral. As an introduction, three young women — Maddie, Haley, and Jean-Marie — stand at the formidable doors of their sorority house. They've been waiting for you. They fling the doors open, revealing a room packed to the brim with screaming sorority sisters. Their screams will haunt you, but not as much as their wiggling fingers, their manic chants, and the disembodied arms clapping in the background. 
It's terrifying, but even more so, it's wildly impressive. Can you imagine how many takes they needed to do that in perfect unison? Now please shut the doors again.