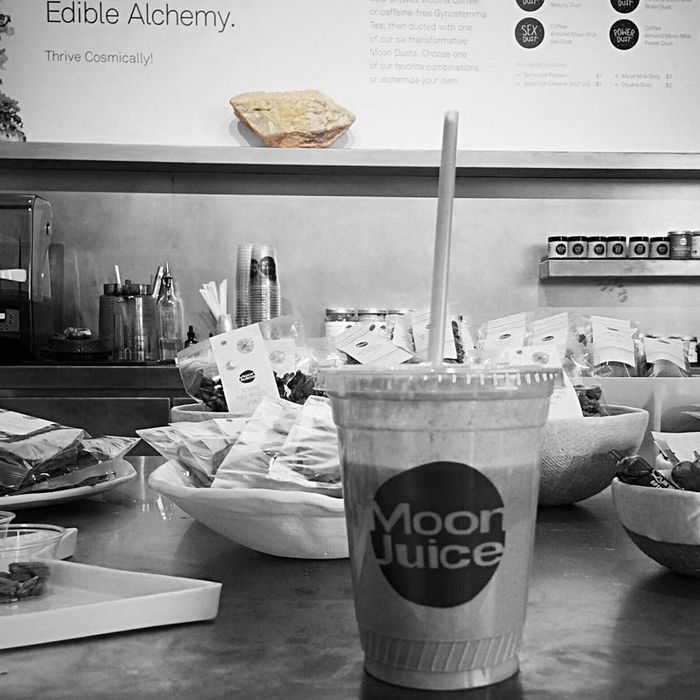 Photo: Courtesy of Instagram/moonjuiceshop
It's been 39 days since somebody stole Amanda Chantal Bacon's rose-quartz crystal from Moon Juice's Silverlake shop, 38 days since musician Father John Misty mocked Bacon by claiming to have stolen the crystal, and 445 days since Bacon's bonkers food diary was published by Elle, rendering me forever changed. The crystal has yet to be found, their feud has yet to be resolved, and I still don't know what the heck Shilajit resin is. And yet, Bacon soldiers on.

On Monday, following several Instagrams in a row featuring $9 bottles of juice and fancy woo-woo dusts, Bacon posted a photo of "a Brain Dust latte made with organic @vittoria_coffee cold brew coffee, our raw Lait de Coco, a double dose of Brain Dust, a hit of our sprouted protein, maca, and a frozen avocado. Good fat, plant protein, adaptogens, and ZERO glycemic." Who? What? Adaptogens? Is there a Dunkin' Donuts around here?
But it soon becomes clear that the bastardized iced coffee isn't even the point of the photo — because in the background of the frame lurks a large, powerful crystal. I see what's happening here: Bacon is Instabragging.
Looking back, she's definitely done it more than once since the crystal was stolen. Here's a crystal posing with a glass of expensive Gatorade and some whimsically arranged smudge sticks:
And then, there was this massive crystal placed ominously on the desk of Moon Juice's new Melrose Place location, Bacon smiling placidly at its side:
The most recent crystal was even featured in the background of a photo before, this time hiding behind a group of serene, laughing white women all dressed identically in white:
I wish Bacon the best of luck on her petty Instagram journey.