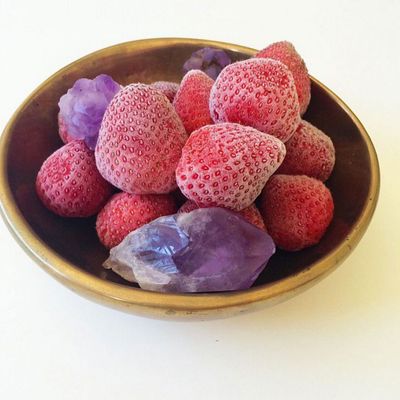 Photo: Courtesy of Instagram/moonjuiceshop
Ever since Amanda Chantal Bacon's rose-quartz crystal was stolen from Moon Juice's Silverlake location (perhaps by the L.A. starter pack meme otherwise known as Father John Misty but probably not), she's been buying bigger crystals, generally crystal-bragging on Instagram, and just lighting shit on fire.
And now, perhaps in a last-ditch attempt to imbue herself with crystal powers, it appears as if she's considering actually consuming some crystals. Her latest Instagram features a photo of strawberries that are about to be turned into a smoothie. They're sitting in a bowl with some striking purple crystals (as one does with their produce) that are … maybe also going into the smoothie?
Amanda, I know you love liquid foods, but, for the love of Gaia, DO NOT DRINK THE CRYSTALS!!!