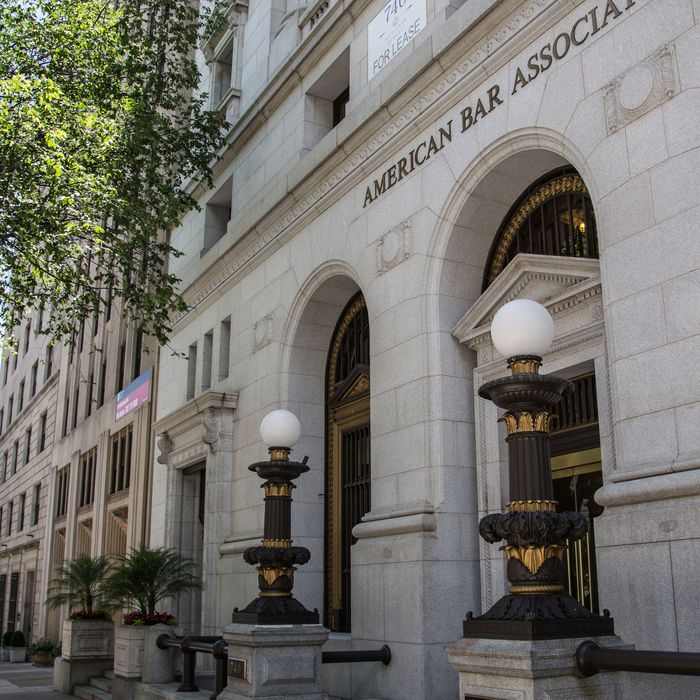 The American Bar Association building in Washington, D.C.
Photo: Courtesy of CC/Flickr/Tony Webster
Women have it tough in the legal world — a recent study sponsored by the American Bar Association showed that they make up only 18 percent of partners at top law firms and only 22 percent of general counsels at Fortune 500 companies, and that women are underrepresented among trial lawyers in most types of cases.
They also regularly have to put up with condescending, sexist remarks in the courtroom. "People make comments every day on everything, from what women lawyers are wearing or whether they are smiling or can take a joke," Lori Rifkin, a lawyer, told the New York Times. An opposing lawyer once told her, "Don't raise your voice at me. It's not becoming of a woman."
Now, the National Association of Women Lawyers wants to do something about it. The group is proposing an amendment to the American Bar Association's model rules of professional conduct that would explicitly ban harassment or discrimination on the basis of gender, plus "race, religion, national origin, ethnicity, disability, age, sexual orientation, marital status or socioeconomic status in conduct related to the practice of law."
Those who oppose the ban say it could interfere with free speech in the courtroom. But women lawyers say sexist and discriminatory comments are often used to throw off opposing counsel, which impedes their ability to do their jobs.