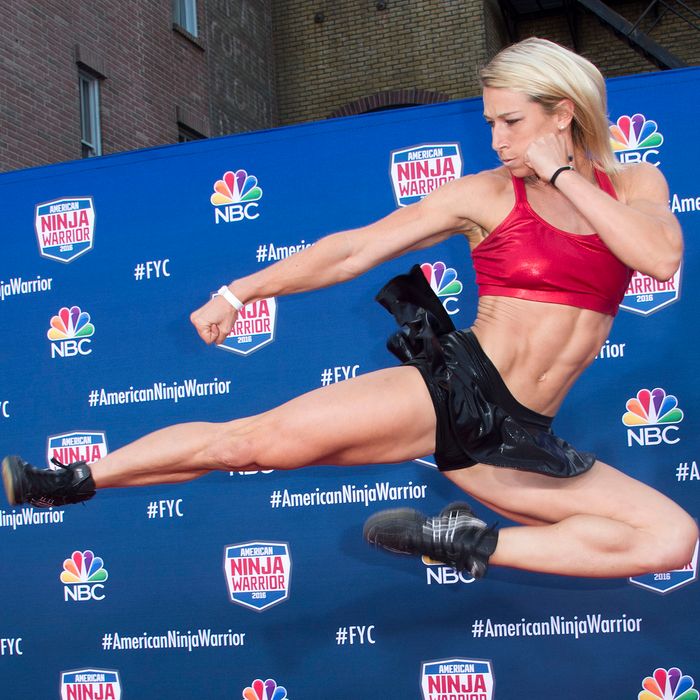 Jessie Graff just became the first woman to complete Stage 1 of the finals in American Ninja Warrior.
Photo: VALERIE MACON/AFP/Getty Images
Jessie Graff is not one to mess with. The Supergirl stuntperson who's known for competing in custom superhero costumes on American Ninja Warrior has been a fan favorite to become the first woman to win the competition. And on Monday night, she came one step closer to realizing that dream when she became the first woman to complete Stage 1 of the finals.
"I hope it will show women that feminine is strong — that we can frequently do more than people think we can — sometimes even more than we believe ourselves, if we're willing to work for it," Graff told People.
Graff managed to do the near-impossible during Stage 1 of the finals in Las Vegas* when she completed some pretty astounding obstacles, including the Log Grip, Propeller Bar, Jumping Spider, and Warped Wall.
Take a look.
Here she is on the propeller bar.

The jumping spider.
The warped wall.
And on the flying squirrel.
If you're not impressed already, consider this: Graff didn't just complete the obstacle courses — she did it all with 12 seconds to spare! How's that for some #MondayMotivation?

Watch her full run here:

*This post has been updated to reflect that the finals of American Ninja Warrior are held in Las Vegas, not New Orleans.