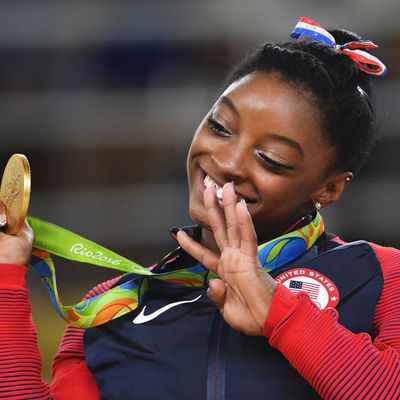 Simone Biles.
Photo: Toshifumi Kitamura/AFP/Getty Images
On Tuesday, American middle-distance runner Jenny Simpson won bronze in the 1,500 meters. It was the first time a woman representing the USA has ever won an Olympic medal in the event. No wonder she was so excited.
With her win, Simpson joined a growing list of Olympians to do something in Rio that no other American had achieved before. From the biggest stars, including Simone Biles, to the most anonymous, like Simpson herself, Americans are racking up milestones almost as fast as medals. Women especially. Below is a list of all of the first-time feats we could find in Rio. There will no doubt be more to come.
With her bronze medal in skeet shooting, Kim Rhode became the first Summer Olympian to win an astounding six consecutive individual medals.
Simone Biles accomplished a handful of firsts in Rio. She was the first American to win gold on the vault and the first American gymnast to win four gold medals in a single Olympics.
Kayla Harrison, who was the first American to win a gold medal in judo in London, became the first American to win consecutive gold medals in judo in Rio.
Sixteen years after winning a gold medal in the 50-meter free, Anthony Ervin was back on the podium with another gold in the same event. At 35, he is the oldest Olympic swimmer to win an individual gold.
When Stanford junior Simone Manuel won gold in the 100-meter free, she became the first African-American to win an individual gold medal in swimming. Two days later, she won silver in the 50-meter free and became the first American woman to finish in the top two in those two events.
Michelle Carter broke the American record on her way to becoming the first American woman to win gold in shot put.
Emma Coburn's bronze medal in the steeplechase marked the first time an American woman took the medal stand in the history of the event.
When Justin Gatlin finished second to Usain Bolt in the 100 meters, he became the first American to win three Olympic medals in the event. He won bronze in London in 2012 and gold in Athens in 2004.
Fencer Mariel Zagunis won her fourth medal when Team USA took bronze in the team sabre competition, making her the first American fencer to medal at three different Olympics.
Shalane Flanagan, Desiree Linden, and Amy Cragg all finished in the top ten of the women's marathon, the first time three Americans placed in the top ten.
Kristin Armstrong owned the cycling time trials, winning her third consecutive gold medal in the event. She's the first woman to pull off an Olympic cycling three-peat.
By winning all three medals in the 110-meter hurdles, Brianna Rollins, Nia Ali, and Kristi Castlin became the first American women to ever sweep an Olympic track-and-field event.