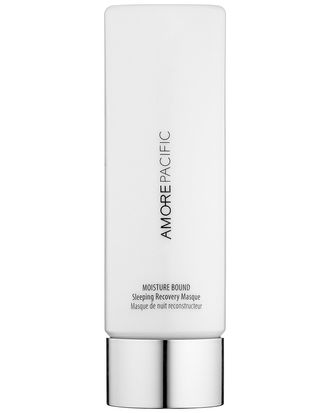 How to moisturize and not scare people.
Photo: Sephora
As much as people praise the benefits of wearing sheet masks on planes, on a recent long-haul flight, I couldn't do it. It's easy enough to slip one on when you're sitting next to your mom or your boyfriend, but more daunting when you're next to a small boy who bursts into tears during Captain America: Civil War. If he found Chris Evans's muscles that terrifying, who knows how he'd react to the sight of a moisturizing burglar mask? Instead, I used the far less threatening Korean sleeping mask, a hydration booster that you apply at the end of your nighttime skin-care routine. 
If Zoolander were to review the Amore Pacific Moisture Bound Sleeping Recovery Mask, he could borrow a few phrases from his Evian commercial, because this mask feels like the essence of wetness and beauty. Made of a cooling cream-gel blend — a little thicker than your typical moisturizer — that applies easily over the face, the mask fights dry cabin air (the brand says its hero ingredient is bamboo sap, which has even more moisturizing benefits than water). Putting this mask on makes you feel like you dunked your face in a pool of cold water, but with a plumped-up, dewy-skin effect that lasts well over eight hours. Your skin will feel soft, and you won't have to frighten anyone in the process.