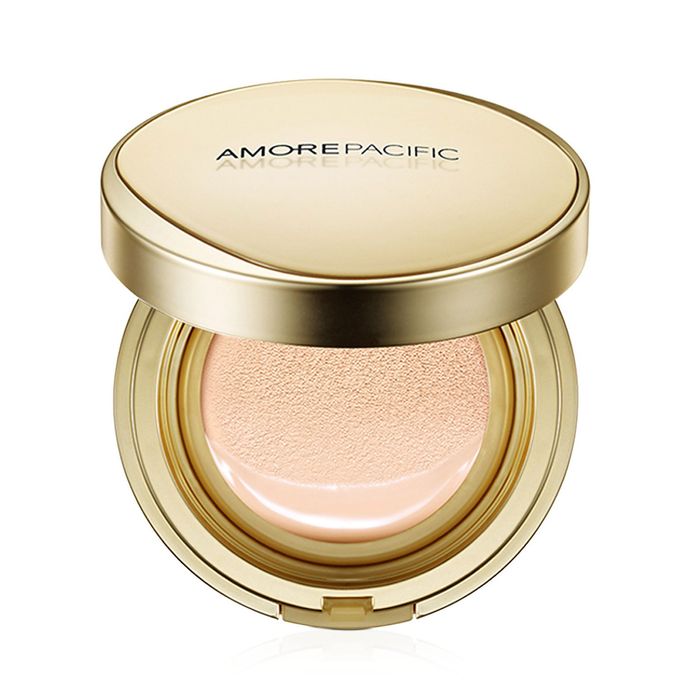 Amore Pacific Age Correcting Foundation Cushion
My preferred method of testing beauty products is to put them on and wait for the compliments to roll in. By that rubric, AmorePacific's newest cushion compact is a winner. Since I started wearing it, I have had strangers and friends alike say to me, "You skin looks so poreless!" or "Your skin looks so good!" My skin is not poreless nor that great. But this Korean beauty product makes it seem like it is.
If you've never encountered cushion compacts before, think of them as diet BB cream: same great taste without all the heaviness. Each overachieving compact contains a cushion that springloads a wet but very light foundation/BB cream hybrid packed with skin-care benefits and SPF onto your finger when you press into it. You don't need a brush or a sponge for smooth application — in fact, each compact comes with a flat sponge whose main purpose is not to blend, but to keep too much product from dispensing.

While practically all the cushion compacts I've tried have been superior to BB creams, AmorePacific's Age-Correcting Foundation Cushion has been the smoothest. It doesn't settle into pores or leave you feeling overly silky. Your skin looks beautiful and dewy, but like you aren't wearing much of anything at all. I even forego highlighter when I put it on, because the finish is naturally glowy. The only detriments are the product's throwback name (why does my age need correcting?), its very limited color range (it only comes in five shades, all of them light pink or yellow-based), and its strong, perfumelike smell. But putting it on has never made it easier to fish for compliments like it's my job — which, luckily, it is.
AmorePacific Age-Correcting Foundation Cushion SPF 25, $80 at Nordstrom.com