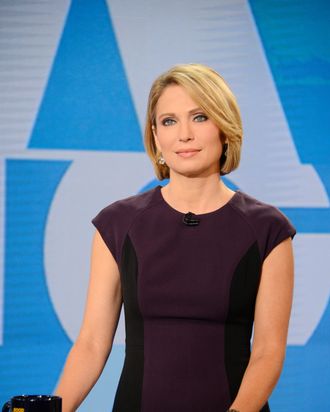 Whoops.
Photo: Ida Mae Astute/ABC via Getty Images
On a Monday broadcast of Good Morning America, host Amy Robach sparked outrage when she used the phrase "colored people" instead of "people of color."
"We all know Hollywood has received recent and quite a bit of criticism for casting white actors in what one might assume should be a role reserved for colored people," Robach said in a segment discussing Zendaya's recent casting as Mary Jane in Spider-Man: Homecoming. "Could this potentially be the industry trying to right itself?"
To her credit, Robach quickly released an apology. "This morning during a segment about Hollywood casting, I mistakenly said 'colored people' instead of 'people of color,'" she said in a statement. "I sincerely apologize. It was a mistake and is not at all a reflection of how I feel or speak in my everyday life."
After the apology, Twitter eggs everywhere were spotted whining "HOW CAN IT BE OFFENSIVE IF THE NAACP EXISTS?" to their zero followers.