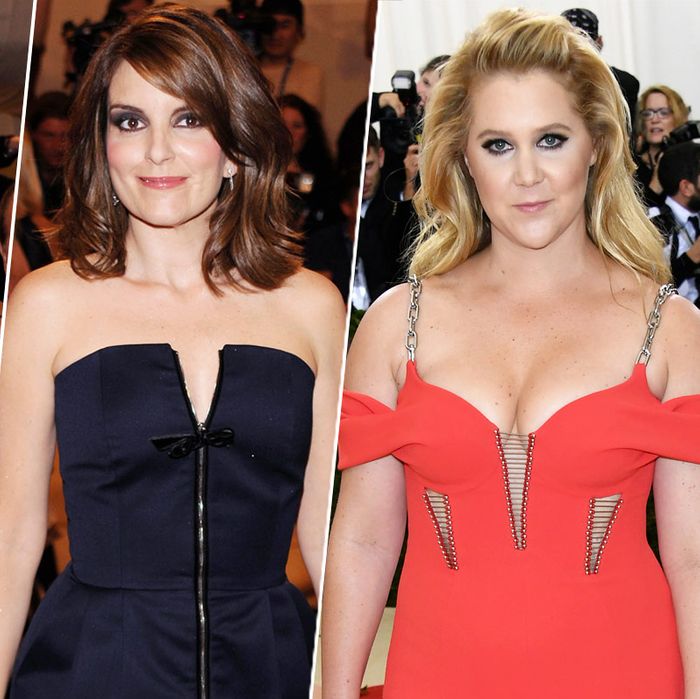 Gwyneth Paltrow, Tina Fey and Amy Schumer at the Met Gala
In an interview with Howard Stern, Amy Schumer committed one of the last remaining acts of celebrity defiance: She dissed the Met Gala. "It's people doing an impression of having a conversation. I don't like the farce," she said. "We're dressed up like a bunch of fucking assholes."
"I got to meet Beyoncé and she was like, 'Is this your first Met Gala?'" the comedian recalled. "And I was like, 'It's my last.'"
"I don't like it," she concluded. "I have no interest in fashion. I don't care."
Schumer is known for her candor, but even for her, this level of honesty is surprising (good thing she already got her Vogue cover). Plenty of celebrities have no interest in fashion, which doesn't mean they won't pay their respects at the temple of Anna when the time comes.

Still, there are those brave few who have dared to speak their truth and risk spending their days relegated to garbage publications, like the New York Times. Last year, Tina Fey suggested that Letterman "drink contact-lens fluid" before attending the gala. "It is such a jerk parade. If you had a million arms and all the people you would punch in the whole world, they're all there."
And in 2013, Gwyneth Paltrow, in her most rock n' roll moment, declared: "I'm never going again. It was so un-fun. It was boiling. It was too crowded. I did not enjoy it at all." And it's true. She has never been seen on the steps of the Met again.
Please keep Gwyneth, Tina, and Amy in your thoughts and prayers.