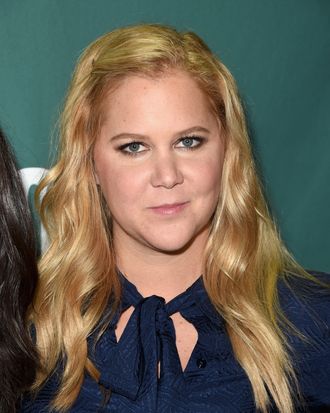 Photo: Michael Loccisano/Getty Images
After a very long week (releasing her book, distancing herself from onetime Inside Amy Schumer writer Kurt Metzger's controversial comments on rape), Amy Schumer seemed to drop some big news: She's done making her Comedy Central show. At least, that's what it sounds like Schumer said in response to speculation about whether Metzger was fired as a result of his comments.
Earlier on Wednesday, Schumer tweeted, "Kurt does not work for me. He is not a writer on my show." Separately, Metzger himself wrote on Facebook: "There is no job … They want me fired from a job that doesnt exist [sic]." It seems, according to Schumer's latest tweet, that Metzger was alluding to the end of Inside Amy Schumer. Schumer stated: "I didn't fire Kurt. He isn't a writer for my show because we aren't making the show anymore. There are no writers for it."
What's unclear, if Schumer's news is taken in earnest, is whether we actually won't be getting any new episodes of Inside Amy Schumer. While Schumer's skyrocketing profile would make the show's end unsurprising, Comedy Central already renewed the series for a fifth season back in January. That makes the question one of whether season five simply isn't happening, or if Schumer has somehow already completed production on what will be the show's final season (an unlikely possibility). Either way, some pretty out-there Inside news. This post will be updated as more information becomes available.