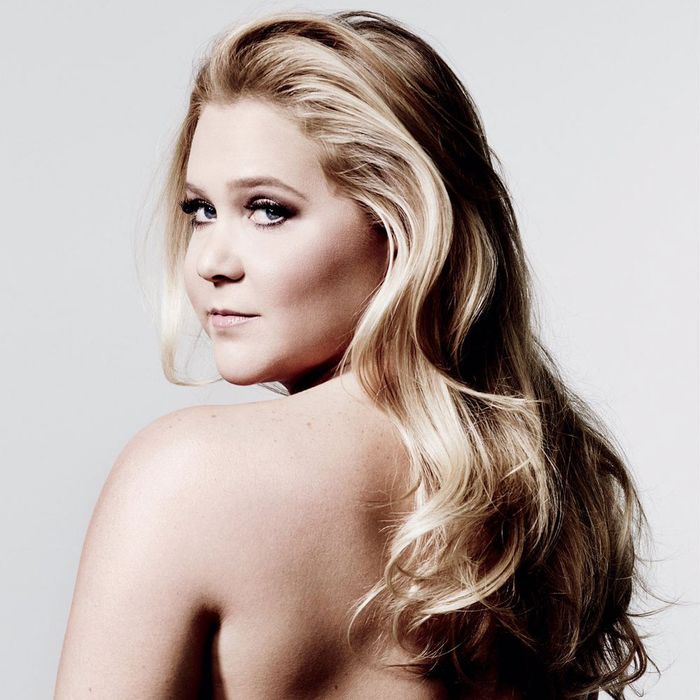 Once you achieve a certain level of comedy success, duty requires you to accept a staggeringly large advance to tell your life story in the form of a collection of humorous essays. Now, much like Tina Fey, Amy Poehler, Mindy Kaling and Lena Dunham before her, Amy Schumer has made her offering to the comedy gods in the form of a quasi-memoir titled The Girl With The Lower Back Tattoo. She's quick to clarify that this is not an autobiography; rather, it's a collection of stories from her life as a "daughter, sister, friend, comedian, actor, girlfriend, one night stand, employee, employer, lover, fighter, hater, pasta eater and wine drinker." While it doesn't quite have the wisdom quotient of co-writer Jessi Klein's recent memoir, there are still plenty of fascinating tidbits contained within its pages:
One of her best sexual encounters was a one-night stand.
Much of Schumer's comedy revolves around her sex life, and there's plenty of material to be found in the book as well. But Amy would like to clarify that she's actually not as wild as she appears onstage ("Sorry to disappoint anyone who thinks I walk around at all times with a margarita in one hand and a dildo in the other"). She's slept with 28 people total, has never hooked up with a guy after a show, has never hooked up with a woman, has never had someone come on her face, has never had anal sex, and has only had one one-night stand: with a guy in Tampa whom she met on a plane, and which still ranks as one of the best nights of her life. She's also slept with a number of famous athletes, whose names sadly remain undisclosed, including a lacrosse player, an NFL player, a professional wrestler she met on Twitter, and an NHL player with the biggest dick she's ever seen. Nice!
She has a criminal past.
As a teenager, Amy had a penchant for shoplifting, resulting in a few brushes with the law. At 14, she got benched from a club volleyball tournament in Sacramento after encouraging her teammates to lift tchotchkes from a local novelty store. A few years later, she and her sister Kim were arrested for a stealing spree at Bloomingdale's that included prize items like a leather fedora, Seven jeans, a tank top with a bejeweled dollar sign, and a leopard-print onesie. She views her shoplifting days as evidence of the same hustling spirit that informs her comedy. "Now that I'm all grown up and no longer driving up the price of bad tchotchkes in Old Sacramento, I've graduated on to the next-level hustle — making people laugh," she writes.
Her family life is complicated.
Much of the book is focused on Amy's relationship with her parents, who seem like pretty complicated people. Her dad, who suffers from multiple sclerosis (which she details at length, including an upsetting chapter about the times he shat himself in public), was an alcoholic former playboy who made a lot of money selling luxury children's furniture and then lost it all. Her parents divorced after her mom had an affair with Amy's best friend's dad when Amy was 13, and both her parents would go on to cycle through a string of tumultuous and short-lived relationships over the course of Amy's adult life. While Amy and her mom were "abnormally" close for years, Amy recently put some distance between them, forging a new relationship at 29 that had "Fort Knox-level boundaries."
"It became very clear that she manipulated me in unhealthy ways and that the remnants of that manipulation were still a part of our present-day relationship," she reflects.
Her life hasn't been all laughs.
The book intersperses light stuff (one chapter is just called "Things That Make Me Happy") with some pretty heavy shit. In addition to her difficult family life, Amy goes into detail about some of the darker chapters of her sexual and romantic history, including losing her virginity to her boyfriend without consent and being in an abusive relationship that culminated in her being chased her through her apartment complex with a knife. "I'm telling this story because I'm a strong-ass woman, not someone most people picture when they think 'abused woman.' But it can happen to anyone," she writes after chronicling her terrifying domestic abuse. "You're not alone if it's happening to you, and you're not exempt if it hasn't happened to you yet. I found my way out and will never be back there again. I got out. Get out."
She really does have a lower-back tattoo.
She got the tattoo when she was 20. Her mom drove Amy and Kim to a spot in the East Village, where a drunk guy named Kurt who looked like "an overweight asthmatic Son of Anarchy" drew a sizable tribal design just above her ass crack. Still, she doesn't regret it at all, because it gave her the title of her book, and because it's become a metaphor. "Now that all of my work, my relationships, my tweets, my body parts, and my sandwiches are publicly analyzed, I'm proud that I labeled myself a flawed, normal human before anyone else did," she writes. "I've been called everything in the book, but I already branded myself a tramp, so the haters are going to have to come up with something fresh."
She still has a collection of stuffed animals.
Their names are Mouser, Bunny, Panda, Penny, and Pokey, and she is "100 percent genuine in [her] devotion to them," to the extent that she once had friend Tilda Swinton's partner, Sandro, immortalize them in a painting.
She probably met her boyfriend on Raya.                      
Amy's furniture-making boyfriend, Ben Hanisch, isn't in the book much, but we do learn a little bit about the pair's romantic meet-cute, which took place after pal Vanessa Bayer suggested "a dating app for your phone specifically aimed at creative people" (we're guessing Raya, a.k.a. Illuminati Tinder). Amy picked "Dirty Work" by Steely Dan as her profile song; Ben's was "LSD" by A$AP Rocky. While Amy "took [her] profile down in under forty-eight hours," it was enough time for her and Ben to appreciate each other's music selections and launch what would be the start of a beautiful romance. Hey, when you find a guy with the ideal boyfriend profession, swipe right and don't look back.