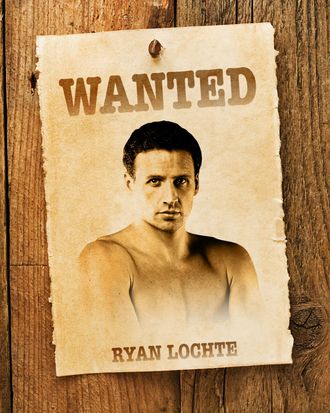 Photo-Illustration: Getty Images
As the Rio Olympics begin to draw to a close this weekend, and many Olympians board flights from the Rio de Janeiro Galeão International Airport back to their homelands, proudly toting bronze, silver, and gold to show their loved ones, one question still remains unanswered: What in God's name is going on with Olympic gold medalist, grill enthusiast, and jeah coiner Ryan Lochte?
By now, even if you haven't paid attention to the Olympics at all, you might have heard that Lochte (and three other U.S. swimmers) are in the middle of an improbable international scandal that has a little bit of everything: late-night partying, a shifting story line, an escape to America, seized passports, and the "whatever" heard round the world. A little confused by all the drama? Allow us to guide you through the mess, one jeah at a time.
Okay, so who are the key players?
We've got four U.S. swimmers at the center of it all: Ryan Lochte, Jimmy Feigen, Gunnar Bentz, and Jack Conger.
They seem like nice American boys. Surely they wouldn't lie about being robbed?
Well …
What is the story that Ryan Lochte told the press immediately after the robbery?
According to Lochte, whose story keeps changing every day, on Saturday night, he and three other U.S. swimmers were at a party at Club France, a pop-up location set up to celebrate French Olympians. Lochte says that the four swimmers left the party around 4 a.m. in a taxi, and on the way back to the Olympic Village, they were pulled over by men dressed like police who robbed them at gunpoint near a gas station. Lochte's original version of the story said that a gun was put to his forehead and cocked while the men took his money and wallet, but not his cell phone or credentials.
That original version of the story also had the gunmen telling his teammates to get on the ground, while Lochte refused. That's when the gun was put to his head, and again, as he was told to get on the ground, Lochte says he said, "whatever" and put his hands up instead as the men robbed them. Lochte's lawyer, Jeff Ostrow, has since said that the suggestion that Lochte's story is a lie is "BS," saying, "Ryan has always maintained there were number [sic] of them. I don't know if three or four, but a number of them. If one guy walked up to him, he probably would've kicked his ass."
The team made it back to the Olympic Village, where they were seen on video camera joking and laughing together, which they have since claimed was a byproduct of shock.
Did they go to police after it happened?
Lol, not exactly. The men didn't call police after the incident, but Lochte did text his mom Ileana to tell her what had happened. Ileana then told Fox Sports the story, later confirming it to USA Today, after both International Olympic Committee director of communications Mark Adams and Ryan Lochte's personal coach, David Marsh, said that the story wasn't true.
Only after the USOC released a statement was it clear that any of the swimmers had spoken to authorities at all. At this point on Sunday, Lochte and one other swimmer were interviewed by police authorities in Brazil about the incident, during which they claimed they couldn't remember the color of the taxi, where the robbery had occurred, or even what time any of the events had occurred. The police let them go, after which, Lochte made it his business to get on a plane back to the States as authorities in Rio began to raise questions about his account of the incident.
But, wait, so what's the real story, then?
Well, video surveillance is countering some of the most important parts of Lochte's story. According to Rio newspaper Extra, the swimmers were caught on tape leaving the party at 5:50 a.m. and arriving back at the Olympic Village at around 6:56am. When they arrived, there is surveillance footage of the four men going through security, taking out what appears to be both wallets and phones from their pockets. Lochte has since denied that the object seen on camera was his wallet. In fact, Lochte's dad, Steve, who is in the States currently, explained that once Lochte arrived back in America, he had gone out to "buy a new wallet." Okay. Sure. Now, a source in the Brazilian police force is saying that the real scuffle was the result of swimmers breaking down a door at a gas station and fighting with the security attendant.

What's this about "seized passports"?
After investigators in Rio began to question Lochte's story, a Brazilian judge issued an order to seize the passports of the four swimmers so that they could not leave the country without cooperating further with the investigation. Lochte, for one, had already hightailed it to the States, while Gunnar Bentz and Jack Conger were about to do the same. Those two swimmers were pulled from their flight home by police authorities, per the passport-seizure order, and are now in custody and helping with the investigation. Jimmy Feigen, however, had been somewhat M.I.A. on Thursday, until he told USA Today that he was in fact still in Brazil and cooperating with authorities as well. Lochte has reportedly been spotted in Charlotte, North Carolina, with his Playmate girlfriend.

Has Lochte stood by his version of events?
Yes and no. Late on Wednesday night, Ryan Lochte got on the phone with Matt Lauer to explain what had happened once more, but many of the details he told Lauer do not line up with things he had told Billy Bush only a few days before. In the account to Lauer, Lochte says that the taxi driver actually pulled into a gas station, where they were approached by men on foot, who then proceeded to point a gun in his direction (not at his head). Lochte told Lauer, "I wouldn't make up a story like this nor would the others — as a matter of fact we all feel it makes us look bad. We're victims in this and we're happy that we're safe."

But why did Lochte feel compelled to lie at all?
While Lochte vehemently denied it in his interview with Lauer on Wednesday night, there is ongoing speculation that what the four swimmers were really after when getting in a taxi out of Club France were either prostitutes or drugs, and their allegedly fabricated story is one way of diverting from the real story coming out. However, security footage from the gas station that the swimmers' taxi pulled into could reveal something shady: The swimmers allegedly got into a fight with security at the gas station over destruction of the station's bathroom. Attendants at the gas station demanded the swimmers pay for the damage.
The most important question remains: Why would Lochte ever get his mom involved?
This one is tricky. Despite his laid-back "whatever," perhaps Lochte really was shaken up by whatever transpired and felt the need to tell mom some version of the events, but not necessarily the true ones. If it is true that Lochte & Co. were busting up a gas-station bathroom stall, as a Brazilian security source told Reuters, that wouldn't be something his mom would have liked to hear, so it's possible Lochte tweaked it to come out the other end as a sympathetic character to his mama. Ileana is one of "several Olympic parents who have revealed they pack their children goodie bags when they head off to major competitions," according to ABC News.
So what happens now?
Well, the four swimmers will have to continue to cooperate with authorities in telling their version of the events. A representative for the IOC, Mario Andrada, released a statement, saying, "We have to understand that these kids came here to have fun. Let's give these kids a break." Ryan Lochte is 32 years old. Whether those stories change after new details emerge remains to be seen, but there is a possibility that the men could face charges for providing false testimonies.
Is any of this jeah?
No. :(