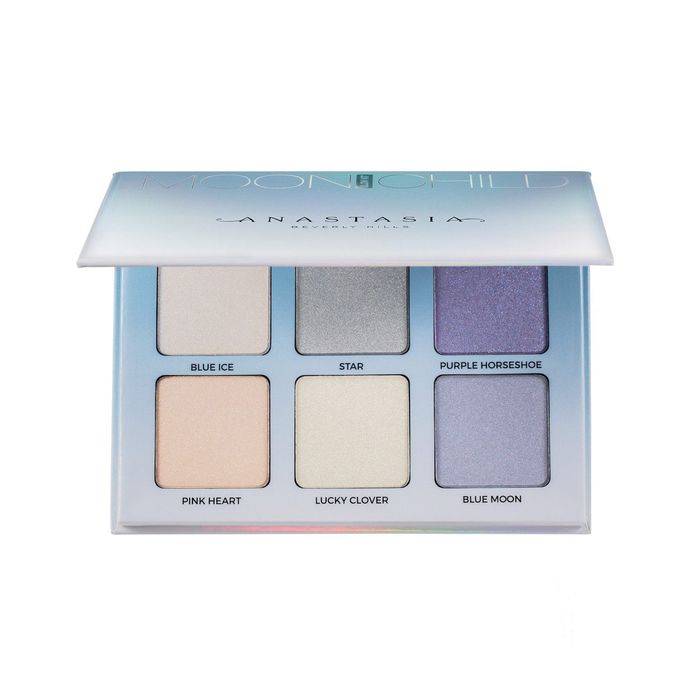 Anastasia Beverly Hills Glow Kit in Moonchild
Photo: Anastasia Beverly Hills
It seems like only yesterday that highlighters — those dazzling beacons of light — blazed into the universe. Back then (last year, maybe), your only option was a singular pot with tiny flecks of gold. But while you were just getting a knack for adding the perfect amount of shimmer to your cheeks, Anastasia Beverly Hills, maker of Kim Kardashian's highlighter of choice, threw a wrench in the whole thing. This week they launched a set of pink, purple, green, and blue highlighters, and guess what? Everything you thought knew about illuminating your face is now a wash.
Moon Child is the latest of Anastasia's "Glow Kits" and features six shades of iridescent colors. "Blue Ice," a milky hue in the palette, transforms into a cool periwinkle on skin. "Lucky Clover," also deceptively white pre-application, reinvents itself as a bright green shade as soon as the powder hits your cheeks. "Blue Moon" and "Star" are surprisingly similar-looking. They both cast an icy silver color that gleams under sunlight and florescent bulbs alike, but "Blue Moon" is obviously a bit more, well, blue. "Purple Horseshoe" rings true to its name and sweeps on like a darker lavender version of "Blue Nile," which leads me to my favorite shade, "Pink Heart" — an orangish-pink hue that warms the cheeks.
Anastasia says each color is primed to deliver a "celestial finish" on skin, and she isn't kidding. Blue Ice, Purple Horseshoe, and Lucky Clover are the outliers in the group, begging you to be adventurous. Worn as highlighter, each one makes a statement that says "I truly love makeup and am unafraid to show it." Worn as an eye shadow or body shimmer dust, as Anastasia also suggests, the colors are a tad more demure — as demure as you can get while wearing green sparkles.
As I mentioned before, my favorite shade is Pink Heart, and that's because it's the most mundane. Its warm tones remind me of golden highlighters and suits my not-so-bold tastes. But that's not to say the metallic shades of Star and Blue Moon don't get me excited for a cool effect. Their silver shades make me feel like an ice queen, and even I can admit that I don't look ridiculous when I dust the powder over my cheeks.
Another cool thing about the palette is that its colors are easily mixed together. You'll look illuminated with multi-tonal cheeks — and truthfully, that's the only way I will ever wear Lucky Clover. Maybe that's the kit's true talent after all: taking a drab person like me and then poof! putting her in green highlighter.
Glow Kit in Moon Child, $40 at Anastasia Beverly Hills.