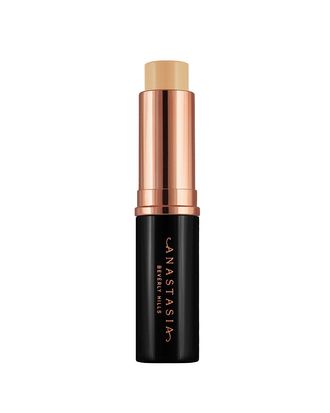 Anastasia Beverly Hills Foundation Stick
It took years for Anastasia Beverly Hills to make the leap from peddling eyebrow pencils to color cosmetics. First came the contour kits, then the liquid lipsticks and highlighters, and now the brand is introducing its first foundation.
It's a stick available in 26 shades and packaged in glossy tubes of black and rose-gold; it glides smoothly on skin to provide buildable layers of coverage. For a light wash of color, swipe the stick in the center of the face and blend outward with a sponge or brush. For a heavier finish, glide the stick over the forehead, nose, chin, and cheeks. It works as an under-eye concealer, too, if you gently tap the product with the pad of your finger.
It's easy for a foundation stick to turn greasy, but Anastasia's don't. The satin finish stays quite satin, an effect you can prolong with the help of a powder to set it. My shade — Amber — matched my skin tone perfectly, and I found that the formula didn't cake or crease in the crevices of my face. Though the foundation doesn't feel especially hydrating (or, on the other hand, mattifying), it delivers a satisfying glowy finish that's similar to Armani's cult favorite, Luminous Silk, or Charlotte Tilbury's Magic Foundation. The stick form makes it easy to transport, which truly makes the difference.
Anastasia Stick Foundation, $25 at Anastasia Beverly Hills.