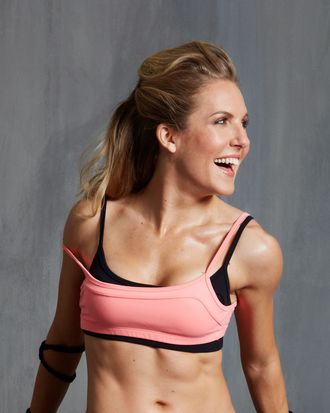 Anna Kaiser, Shakira, and Karlie Kloss's trainer.
Photo: Courtesy of AKT
As you might guess, being as fit as Shakira, Karlie Kloss, Kelly Ripa, or Sarah Jessica Parker doesn't involve a lot of sitting on the couch. Instead, all four celebrities employ the services of master trainer Anna Kaiser of AKT. The former content officer for Tracy Anderson talks to the Cut about working out too hard, the myth of protein bars, and how to stay balanced while traveling.
How I start my mornings: I wake up in the morning and drink my Essentia water first. I keep a liter by my bed. If I get up in the middle of the night, I can just grab it. I try to drink a liter before 10 a.m. The water rehydrates me after sleeping for eight hours. It also sets me up for the day so I'm not hungry and keeps me hydrated as I work out. I try to drink three liters a day.
Then I have a raw probiotic, folic acid, and multivitamin with breakfast. Sometimes, it's a super-food shake. I also have been loving this hearty concoction of Ezekiel bread with coconut oil, avocado, and Himalayan salt. If I have my breakfast after my workout, I'll do a shaker with whey protein, chia, greens powder, and maca. When I get out, I'll put ice in the shaker with coconut water, shake it, and have it for breakfast.
Caffeine is hard on an empty system, so I try not to do it unless it's to get my heart rate up. If you drink caffeine 15 minutes before the workout, it can make it more effective. So I'll do tea or coffee after breakfast.
What wellness means to me: It means balancing my energy, lifestyle, and nutrition from an 80/20 perspective. That means 80 percent of the time staying on track, and enjoying and treating myself the other 20 percent. It's balancing enough fitness without overdoing it and getting enough sleep. It's about finding that perfect balance where I'm enjoying the day, and not racing through it. It's also about feeding myself well and seeing people who I love. As I get older, I think about the quality of my life and a balanced way to enjoy that. That's true wellness — being well from inside out.
How I sweat: I usually work out an hour a day by myself and take one day off during the week. I do everything. One day I'll focus on strength or dance, or do a restorative workout. I get bored very quickly. I have to keep my mind and body challenged in different ways, so I will pull from a lot of different types of fitness. If I'm feeling really tight, I might do a more restorative session from the day before. Then I might do intense cardio. Or I'll focus on intense strength and lifting heavy weights another day.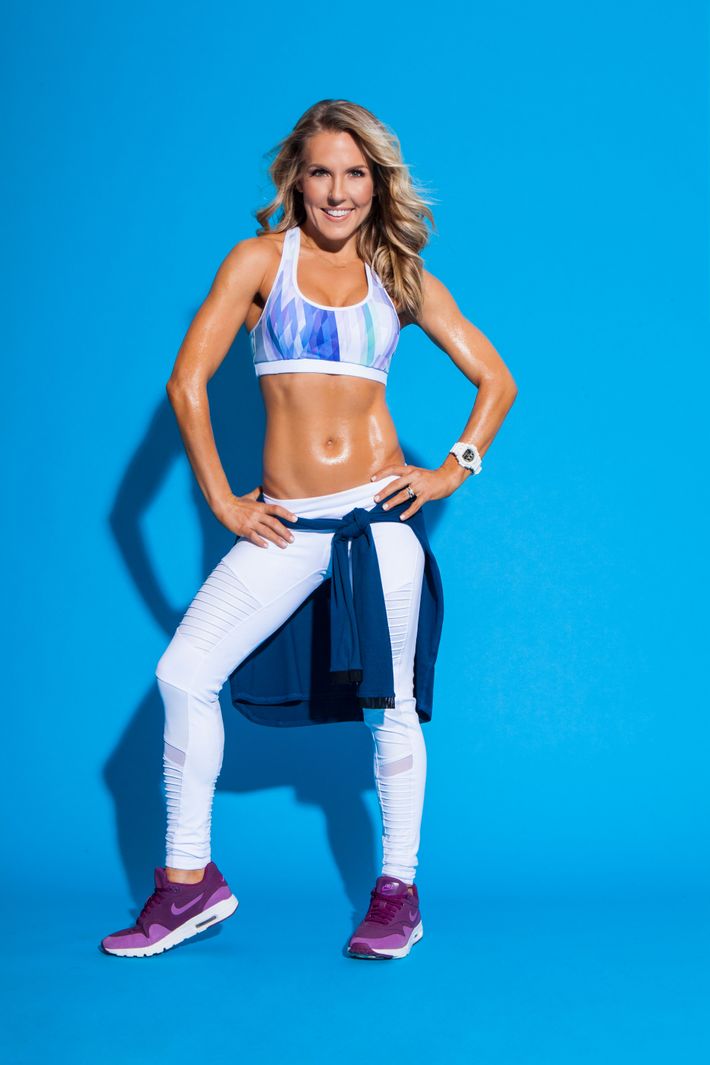 How wellness has changed for me: When I was younger, I would use exercise to make up for the poor choices I was making in life. I would try and go at 150 percent at all times and burn the candle at both ends. I thought that the more I was doing, the more successful I was at life. It was not a balanced mentality.
I got to a place in my life when I was working out so much and so hard. My adrenals actually failed. I got really sick. I had to reexamine the way I was approaching life. Unfortunately, that's what happens sometimes — we go through a period of pushing it too far. It's something you have to learn, especially as a passionate person.
On working out too much: You can tell if you feel like you are unable to recover from the workout you had. It's still hard to breathe. You don't have energy. You are sore instantly. You just can't seem to get enough water. Then it's too hard. I don't think that anyone should be working out more than 60 to 90 minutes, four to five days a week.
Soreness is not something you should always look for. It's good once in a while, it means you are pushing back on plateaus. But just because you aren't sore doesn't mean you aren't working hard. It could be that you are trying out a different workout that is making you work new muscles you haven't really used before. Or it's pushing specific muscles beyond where they used to go. But extreme soreness should be avoided.
On food: I love the way I feel after a workout. I make better choices. When I can't exercise, it's more difficult to make good food choices. Life is about balancing amazing food. Portion size is really important. I eat just about everything. But I don't eat fried food. I don't eat refined flour sitting in a box. I don't crave it anymore. I used to have it once in a while, like it was the comfort food that I grew up with. I just don't enjoy it. I know how bad I'm going to feel afterward.
I don't like teaching on an empty stomach, so I have something about an hour to 90 minutes before I teach. It will be a small snack like quinoa and vegetables, quinoa tabbouleh, two hard boiled eggs and radishes, a light shake, or a green juice ,which is easily digestible.
What's great about the world is that organic beautiful food is available in so many more places. There isn't an excuse not to eat well. I had a friend tell me that she always kept bars in her bag. I think bars are like candy. She said she had it in case of a food emergency. And I said, "What is going to happen to you if you don't eat for 30 minutes? You are going to be all right." Our minds and emotions are wrapped around food instead of redirecting it to a conversation with a friend, or looking to achieve an errand with a sense of accomplishment. Don't use time as an excuse to make poor choices. You can always wait and run down and get some almonds.
On sleep: Sleep more. I don't think anyone understands how important it is. If you have a choice where you've only been sleeping five or six hours and can sleep an extra hour or work out, sleep an extra hour. You're running your body down, which will affect your energy and hold onto excess water and weight. It will make you hungrier. Five to six hours for a week really prohibits your cognitive and hormones functions. You really need seven to eight hours. Working out harder or better or eating less isn't the answer. It's about getting enough sleep.
On training celebrities: There's a lot of pressure for celebrities if they're doing a movie or going to an event and that pressure can be overwhelming to handle alone. It's nice to have someone who can help support you and who will hold you accountable as a friend, mentor, and expert.
A lot of times, they can't just go to a class. People are looking at them, and they want to decompress. Besides the anonymity, there's the pressure to make results happen in a short or long period of time. The rest of us want to look a certain way, but we're not necessarily being judged (or we don't have to, unless you're me). It's more for personal interests and lifestyle.
On staying fit while traveling: It's so hard. There's almost no way not to have any jet lag. I try and stay hydrated. Alkaline water gives me more energy than regular water. I have an acidic stomach, as most O-blood types do. I try to keep that on hand or I'll have it sent. I also always travel with good food. You never know if you're going to get stuck and not be able to find healthy food. I'll take things that are easy to pack like green apples, grapefruit, almonds, jerky, pumpkin seeds, hard-boiled eggs, carrots, and celery. I get a lot of really good snacks from Thrive Market like cacao goji bites or spirulina banana chips.
Then it's figuring out the sleep schedule. If I travel overnight, I try to find a way to sleep on the plane. I'll definitely take a nap and try to get into the sun as soon as possible. Try not to get straight to the hotel room and go to sleep. Acclimate to the climate and environment.
In terms of exercise, I'll exercise before I get on the plane. Then, I love a good sweat after. Your body is usually inflamed from the change in pressure. It's good to get out all the extra water and decrease inflammation.
My wellness advice: Adopting wellness, instead of just a fitness routine or nutrition, is something that comes with age. It's about understanding what your body needs for wellness, not feeling burned out, and feeling like you got enough done, while still managing time for your personal life. Enjoy the sunshine and birds and don't be in front of a computer all the time.
This interview has been condensed and edited.