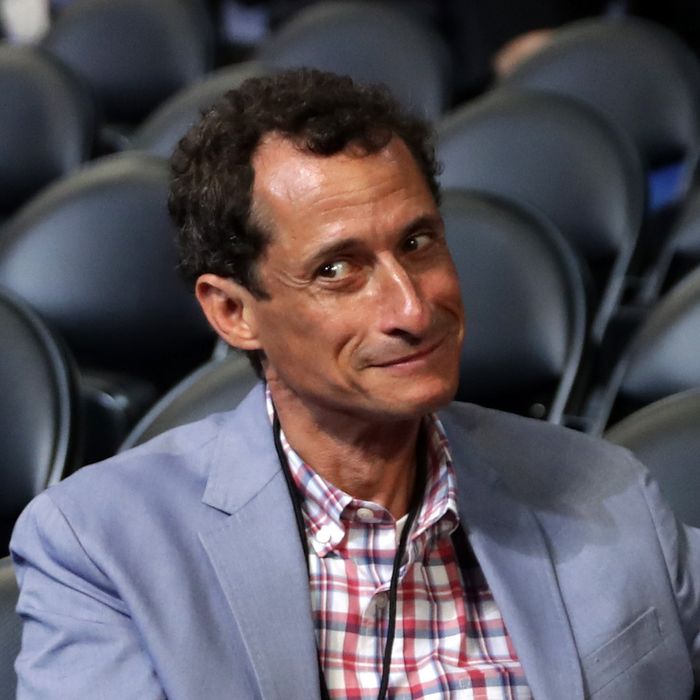 Bad Weiner.
Photo: Chip Somodevilla/2016 Getty Images
Former congressman Anthony Weiner slid into the Twitter DMs of a user named "Nikki" for a little West Coast flirtation, only to find himself catfished by a Republican college student using a female friend's account.
Although their direct messages stayed pretty PG-13, Weiner gave his phone number to "Nikki" with an offer to share his location, which is a fairly clear invitation for some IRL shenanigans.
That's where things came to a halt. The anonymous Republi-bro trying to lure Weiner into the Carlos Danger-zone declined, writing, "Sorry I'm just entering traffic and have to go home or my roommate might hate me forever" — which is a classic move used by women trying to avoid meeting up with lackluster dates since the beginning of social media. Like a method actor in his prime, the catfisher even added, "Sorry! I'm the worst" — which is the ultimate guilt-deflecting blow-off. (It's as if the catfisher had been the recipient of just such a message himself … #thinkingfaceemoji.)
"I can confirm that I am indeed deceptively strong like a mongoose," Weiner wrote in an email to the New York Post, describing the encounter as a "playful joust with an obvious catfish."
The politician's failed mayoral campaign was captured in the brutally honest and occasionally hilarious documentary Weiner, which slid into theaters and on demand earlier this summer. Weiner, who obliquely refers to his history of social-media snafus in his DMs with "Nikki," hasn't been too shy to poke fun at himself, tweeting, "Too late for some of us" in a thread about Clinton's infamous "Delete your account" zinger at Trump.
Seriously, though — it's never too late.