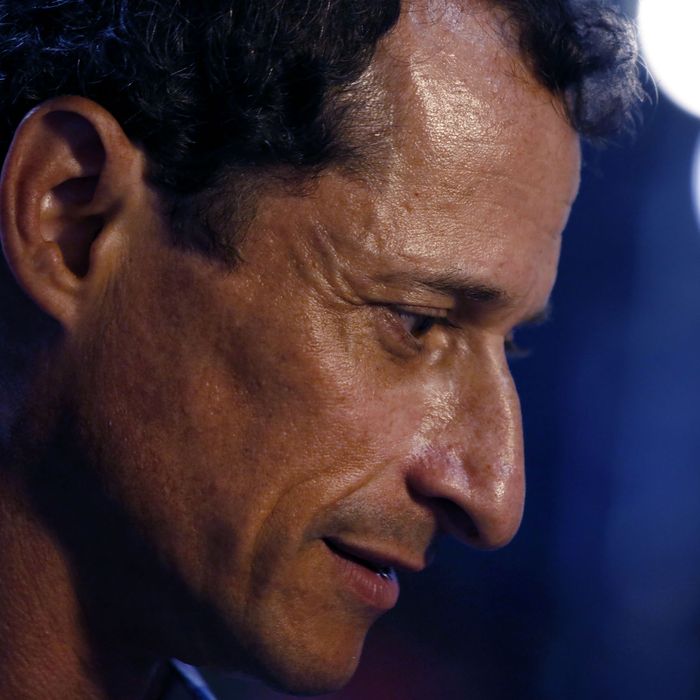 Anthony Weiner.
Photo: John Taggart/Bloomberg via Getty Images
The New York Post just published an exclusive report about former Congressman Anthony Weiner's recent texting habits. Specifically, the paper claims that last summer, Weiner texted a woman a "lurid crotch shot with his toddler son in the picture." From the Post:
The stay-at-home cad shot the revealing photo while discussing massage parlors "near my old apartment" shortly after 3 a.m. on July 31, 2015, a screen shot of the exchange shows…. "Someone just climbed into my bed," Weiner wrote. "Really?" [the woman] responded. Weiner then hit "send" on the cringe-inducing image, which shows a bulge in his white, Jockey-brand boxer briefs and his son cuddled up to his left, wrapped in a light-green blanket.
According to the woman, who spoke to the Post on the condition of anonymity, she and Weiner continued to sext back and forth until "earlier this month." Their messages contain a disturbing amount of penis-related emoji.
For his part, Weiner told the Post that he and the woman "have been friends for some time."
"She has asked me not to comment except to say that our conversations were private, often included pictures of her nieces and nephews and my son and were always appropriate," he said.
Weiner is, of course, married to top Clinton aide Huma Abedin. You can read several graphic snippets of his "appropriate" messages in the Post's report.