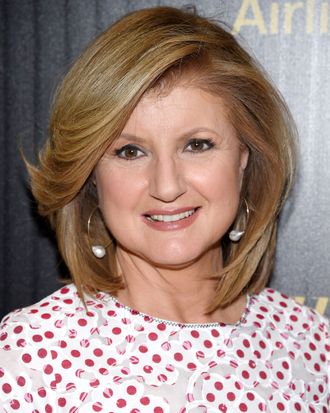 Photo: Dimitrios Kambouris/Getty Images
Arianna Huffington, founder and namesake of the Huffington Post, has announced she will step down as editor-in-chief of the site. Huffington will go on to launch her own company, so-called Thrive Global. Here's a taste of what that'll be like, from the press release Huffington tweeted out this morning:
Thrive Global is a corporate and consumer wellbeing productivity platform. It provides trainings, seminars, e-courses, coaching, and ongoing support based on the latest scientific findings from experts in the fields of neuroscience, psychology, productivity, sports, and sleep. Thrive Global's approach is extremely practical and based on the principle of microsteps so that people can more easily go from knowing what's best for them to actually doing it.
Sure! Sounds good. Sleep. Productivity. Et cetera.
Huffington said on Twitter that she always thought the Huffington Post would be her "last act," but circumstances might have changed those plans. Last month, Verizon announced that they'd be buying beleaguered web company Yahoo in a $4.8 billion deal, which presents the prospect of Yahoo and AOL (and, as part of AOL, HuffPo) becoming somehow integrated: A handsomely paid, high-profile editor-in-chief is not the most convenient person to have around, in that case. And, with Yahoo's Marissa Mayer on possibly shaky footing, the near future could see two of the most prominent female media CEOs moving on to other ventures.