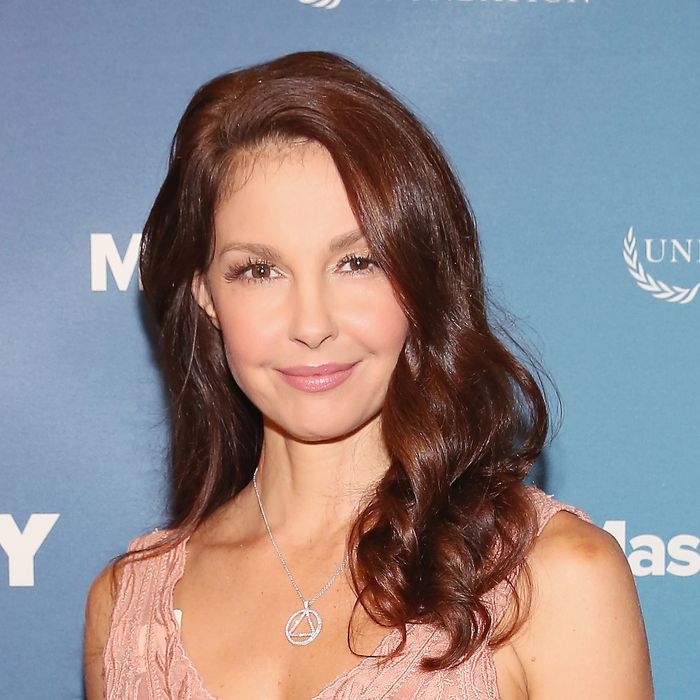 Photo: Mireya Acierto/2015 Getty Images
Ashley Judd has made quite the commitment. Like, as in the years-long kind that will put her in the single-digit percentage of the educated population. We're talking, of course, about some serious PhD-getting business here. The actress and humanitarian announced in a Facebook Live video on Monday that she will be getting her third degree at UC Berkeley starting this fall.
Judd was accepted into a rigorous PhD program for public policy at the Northern California university, where she said she hopes to "do some good thinking, some rigorous research and fill it with my typical heart and soul and see how I can continue to do my little part to make the world a better place." But she's also experiencing some normal first day of school jitters. "Sometimes I'm really excited, sometimes I'm like 'What have I gotten myself into?!'" she added.

Judd's desire to pursue a PhD places her in a minority among those in Hollywood and the population at large. It's not unheard of for universities to sometimes bestow an honorary degree on a celebrity, but that tends to happen for musicians for their creative works over the years. Seeing a relatively well-known actress decide to dedicate years to a post-doc program is pretty darn rare.
Still, Judd's acceptance into the competitive program at Berkeley, which only accepts a handful of students every year, shouldn't be that much of a surprise. Judd graduated from the University of Kentucky, and in 2009, she enrolled in an itty-bitty school by the grand old name of Harvard. Her master's there was in public administration with a focus on gender equality, two issues that have been been dear to Judd's heart for some time.
Judd has often used her celebrity status to speak candidly about the tough choices women and girls face around the world when it comes to their sexuality. At the Democratic National Convention this year, Judd spoke openly about her choice to have an abortion after she was raped in a state where, had she carried to term, the rapist could have held parental rights. Judd has also used her fame and platform to speak about the importance of education worldwide. As an UNFPA Goodwill Ambassador for the Empowerment of Adolescent Girls, she focused on traveling to 150 countries to bring attention to women's right's violations and lack of educational opportunities, according to the United Nations Population Fund. Her studies at Berkeley will continue in the same vein of women's rights with a focus on the role gender plays in human trafficking, according to People.

Given that Judd was awarded also awarded the Dean's Scholars Award at Harvard for a paper in a class titled "Gender Violence, Law and Society," we have a feeling that she'll fit right in among the academic crowd.