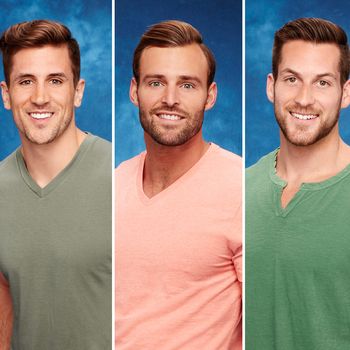 After an impressively dull season spent watching Bachelorette JoJo Fletcher pick which identical hair-swoop to marry (her pick: the douchiest one!), now, more than ever, it seems like The Bachelor franchise is due for a shake-up. Unfortunately, it doesn't look like radical changes will be happening any time soon.
At a Television Critics Association panel today, ABC president Channing Dungey fielded questions about the persistent diversity issues plaguing the franchise, such as the fact that, in 32 seasons, the series has had only one non-white lead, Venezuelan-American Juan Pablo Galavis. "I would very much like to see some changes there, and I think one of the biggest changes that we need to do is we need to increase the pool of diverse candidates in the beginning," Dungey said. "Part of what ends up happening as we go along is there just aren't as many candidates that [get to the end and could end up in] the role of the next Bachelor or Bachelorette." In short: The only way we'll see a non-white Bachelor or Bachelorette is if one makes it far enough along in the competition to be considered.
When asked why they didn't just pick a new candidate, Dungey pointed to the show's time-tested formula. "The show has been very much in a cycle where the first runner-up in one cycle becomes the person who leads the next cycle," she explained. "And it's worked very well for us because the audience feels really engaged in helping to choose that candidate."

As a viewer, let me just say that I have zero investment in the fates of metrosexual Will Forte, bargain-basement Calvin Harris, or Nicholas Sparks stock cowboy. Channing, if you want to go out and find a new Bachelor, you have my blessing.