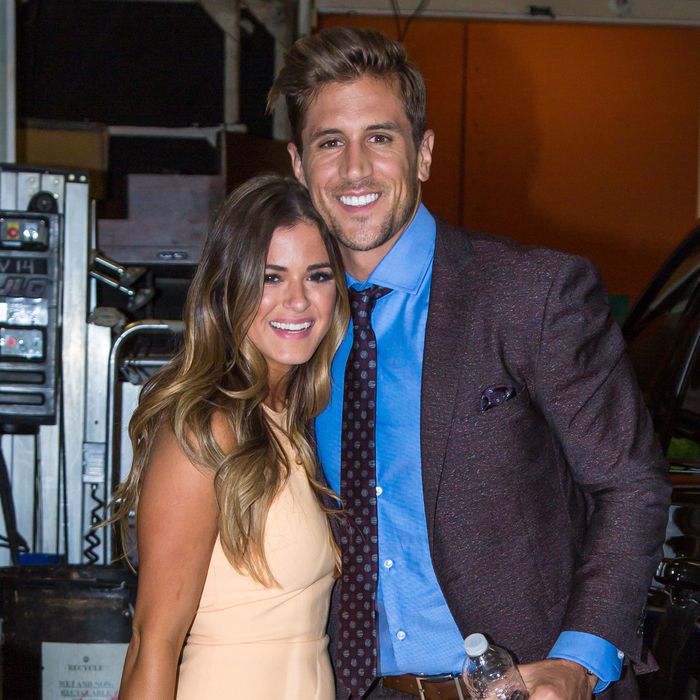 JoJo and Jordan.
Photo: 2015 Alessio Botticelli
Last night on the season finale of The Bachelorette, JoJo Fletcher picked the biggest douche of them all, Jordan Rodgers, to be her fiancé for the foreseeable future. Jordan Rodgers just so happens to be the brother of star NFL quarterback Aaron Rodgers, who just so happens to be dating the famous actress Olivia Munn. Unfortunately, Jordan doesn't exactly get along with Aaron right now, but in an interview with People today, Jordan and JoJo insisted they would love to have Aaron at the wedding all the same.
"There's no scenario in which I wouldn't want my entire family at a wedding, so absolutely, that's something all of our family wants and hopes for at some point," Jordan said.
JoJo added that even if Aaron and her potential new best friend, Olivia, don't show, there will be plenty of people at the wedding, so no big deal or anything. "I have the biggest family and I know my mom already has the largest list of people to invite," she said. "It will probably be big."
As for the theme of this wedding that may or may not have celebrity guests? Like you, JoJo is hoping for something rustic. "I actually started sending [Jordan] Pinterest photos of types of weddings," she revealed. "I think right now — and this is embarrassing that I already know this — I like an outdoor, kind of rustic wedding."
Maybe Olivia Munn likes that kind of wedding, too. We'll have to wait and see.