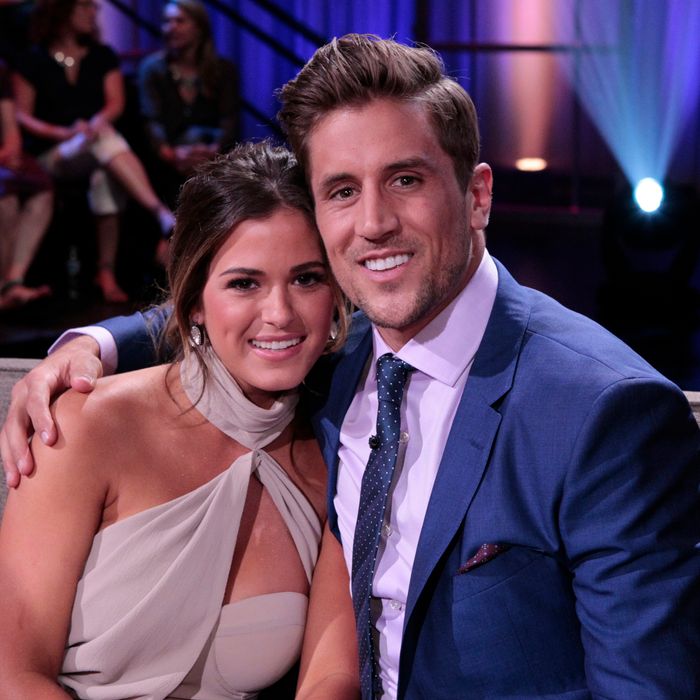 The look of love.
Photo: Rick Rowell/ABC via Getty Images
Brittany Farrar, who was in a long-term relationship with The Bachelorette "winner" Jordan Rodgers, went on an Instagram tear yesterday with some impressively long captions detailing her ex's shady ways. She's since deleted the Instagram posts, but naturally online sleuths have captured the details for posterity.
One post was a video showing an actual receipt for flowers Farrar says he bought for a woman he cheated on her with, whom he met in Louisiana on the set of Pitch Perfect 2. The unedited message attached to the flower arrangement reads, "Happy Birthday to my Favorite Bella. Miss you. Can't Wait to To See That Beautiful Smile Again. From, Your Favorite Football Player Wanna Be Actor." (Come on, didn't anyone proofread that?) The flowers were addressed to a location in Baton Rouge, Louisiana; Farrar blacked out most identifying details, other than the letter "K."
Farrar posted that she was still dating Rodgers when he had the affair, and she posted screenshots of text messages they exchanged on the same day the flowers were delivered to prove it. The other, now-deleted Instagram was an open letter that included his hilarious ultimatum to Farrar, which was allegedly, "Give me another chance or I want my mattress and the chia I bought back!" Harsh.
Farrar's first Instagram shot came a few months ago, hinting at the same Pitch Perfect 2 dalliance in a picture she hashtagged, "#yourpitchisntperfect." When JoJo confronted him on the show during a one-on-one date with rumors of cheating, his body language and demeanor weren't exactly reassuring! Their vibe on "After the Final Rose" was also less than smitten.
JoJo and Jordan have already shacked up in JoJo's hometown of Dallas, Texas. It is inadvisable for Jordan to mess with Texas. He is, as they say in Texas, all hat and no cattle. Would his hair even fit under a hat? Plus, Chad is only hours away in Oklahoma! Sure, Chad might have pooped his pants in Paradise, but maybe he didn't.