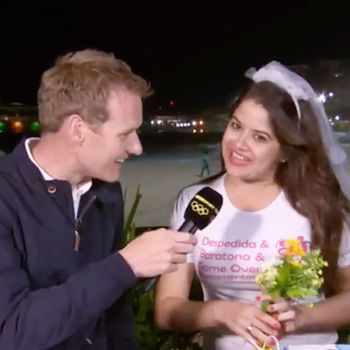 Maria!!!
Photo: BBC/Courtesy of Twitter/scottygb
Being part of a bachelorette party is an athletic feat in and of itself: It requires physical endurance, pushing yourself beyond your bodily limits, and being a team player. So it was heartwarming to see some of the sport's finest participants get the airtime they deserve during the Rio Olympics.  
While BBC reporter Dan Walker was doing some standard late-night coverage, a Brazilian bachelorette party emerged from the shadows and made his broadcast exponentially more exciting. You could hear the party before you could see them: the  "wooooos" were a harbinger of their imminent arrival. The bride-to-be, Maria, snuck onscreen for an interview — and Maria, you'll soon see, is one of the most charming people to emerge out of the 2016 Olympics.
After declaring "I love everybody," she led her friends in a lively chant of "BBC, BBC."
Give them all the gold medals, please.