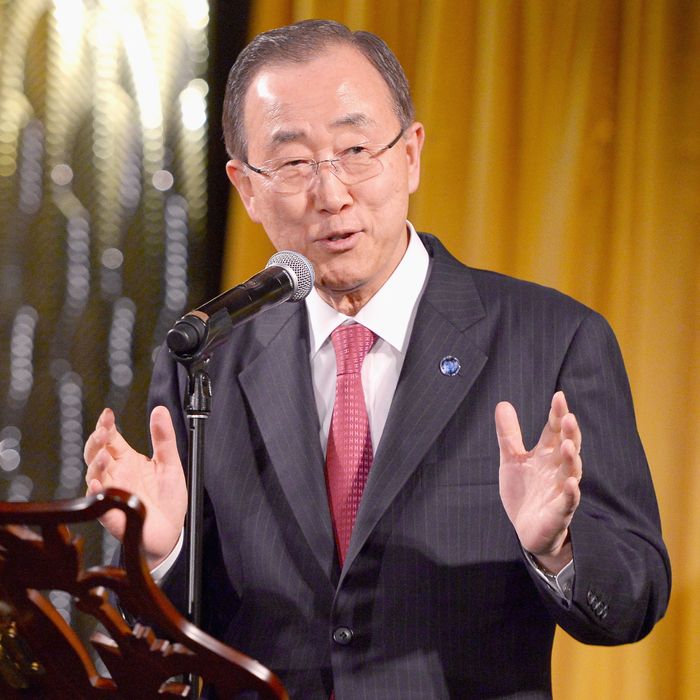 Ban Ki-moon.
Photo: Charley Gallay/Getty Images
With United Nations Secretary-General Ban Ki-moon's second five-year term coming to a close on December 31, there are 11 candidates looking to succeed him, five of whom are women. The U.N. Security Council and the General Assembly will ultimately decide who will take over, but Ban says that if it were up to him, a woman would lead for the first time in the organization's 70-year history.
Last Thursday, he told the Associated Press:
We have many distinguished and eminent women leaders in national governments or other organizations or even business communities, political communities, and cultural and every aspect of our life. There's no reason why not in the United Nations."

He added that there are "many distinguished, motivated women leaders who can really change this world, who can actively engage with the other leaders of the world."
Unfortunately, in two informal polls conducted by the Security Council, the top female candidates — Irina Bokova of Bulgaria and Susana Malcorra of Argentina — have only ranked as high as third choice. Bokova is the director-general of UNESCO, while Malcorra is Argentina's foreign minister and has served as Ban's chief of staff.
A few more straw polls are expected to be held in the next couple of months, so only time will tell if a woman will be leading the U.N. next. But if my experience in high-school Model U.N. taught me anything, we should listen to Ban.