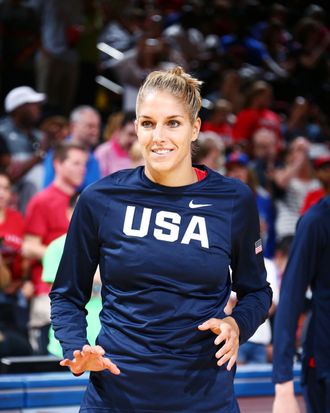 Elena Delle Donne.
Photo: Sean M. Haffey/Getty Images
Elena Delle Donne, the 2015 WNBA MVP and member of the U.S. Olympic basketball team, confirmed to the Chicago Tribune yesterday that she's engaged to her longtime girlfriend, Amanda Clifton.
A story in the August issue of Vogue noted that she and Clifton, who played point guard at Illinois State University, got engaged in June.
Delle Donne's public comments about her sexuality are a big deal, not only because she's a high-profile basketball player — the Nike-sponsored athlete has been called the face of the WNBA — but also because she challenges some well-worn stereotypes about gay female athletes. When Brittney Griner came out in 2013, no one was all that shocked; after all, she'd worn a white suit chosen by Ellen DeGeneres's stylist to the WNBA draft. Delle Donne, on the other hand, presents herself in a more traditionally feminine way, and she's been the subject of much male thirst.
She says talking about her relationship is nothing major, though. "It was just one of those articles where they came into my home, spent a couple days with me, and Amanda is a huge part of my life," Delle Donne told a reporter yesterday in Rio. "So to leave her out wouldn't have made any sense. It's not a coming-out article or anything. I've been with her for a very long time now and people who are close to me know that and that's that."
"I decided I'm not at all going to hide anything," she added. "The biggest thing is respecting Amanda's privacy as well. She's not on the stage, she doesn't need to be interviewed, and I don't want her to have to feel that way."
When asked if she might inspire young athletes who may be struggling with talking about their sexuality, she said, "Maybe. I've grown up in a family where I have the most unique sister in the world and we've always been taught to celebrate uniqueness," Delle Donne said, referring to her sister Lizzie, who is blind and deaf and has cerebral palsy. "It was easy for me to be who I am and hopefully others can be who they are as well."
But it might not have always been this easy for her. Delle Donne was sitting next to Brittney Griner in the interview where Griner came out in 2013. Delle Donne, Griner, and the third top-draft pick that year, Skylar Diggins, had a conversation with Sport Illustrated's Maggie Gray, where they discussed why female athletes who come out are more accepted than gay male athletes.
"I really couldn't give an answer on why that's so different. Being one that's out, it's just being who you are," Griner said. "Don't worry about what other people are going to say, because they're always going to say something, but, if you're just true to yourself, let that shine through. Don't hide who you really are."
Delle Donne added: "In our sport, we're fine with it. We're all friends, and I want everybody to be who they are. You shouldn't have to lie, that's not fair. Hopefully the men can one day adopt that same attitude that we have."