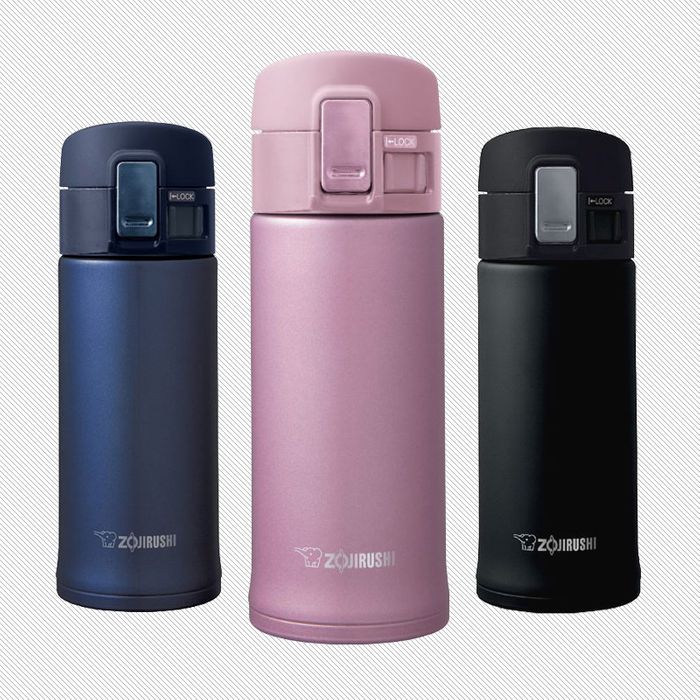 A few years ago, I noticed a thermos on a colleague's desk. She told me it was a Zojirushi vacuum mug and that it was the best thermos that had ever been made. I purchased a 12-Ounce Smoky Blue Zojirushi Stainless Steel Mug and I will never use another thermos or water bottle again.
Zojirushi is a nearly century-old Japanese company and they're super-passionate about vacuum-sealing containers (I'm glad that someone is passionate about this). They make coffee makers and rice cookers and their logo is an elephant: Zo means elephant in Japanese and as the company's website states, elephants symbolize "strength, intelligence, familiarity."
The best thing about the Zojirushi (besides its name) is that it keeps things as they are. Liquid in the Zojirushi stays cold if you want it to be cold. It stays hot if you want it to be hot. The mug's Amazon reviews are full of testimonials from people who doubted the longevity of their Zojirushi's temperature retention and after long days of keeping hot coffee in the thermos took big gulps, only to burn their mouths. It locks so it won't spill in your bag, even if you turn it upside down.
One time, my boyfriend put a bunch of ice and a bunch of vodka and soda in the Zojirushi and brought it to the beach. The Zojirushi fell out of our bag and lay on a towel, exposed to the hot sun for a few hours. When he went to go take a drink, the ice clinked — it hadn't melted. One time, I made coffee early one winter morning and brought it to work in my Zojirushi. When I got to the office after walking through freezing temperatures and snow, the coffee was too hot. I put an ice cube in it like a philistine.
The vacuum mug comes in two sizes, but I like the small one because it's big enough for a good-size cup of coffee or enough water to get you through a long walk on a hot New York summer day. Sleek like a bullet, BPA-free, lightweight, and in a number of attractive "It" colors like dusty pink and matte black, the Zojirushi fits into bags and sits neatly on a desk. It's not dishwasher safe, but Zojirushi sells packets of special cleaning solution you can buy. I've been scrubbing the bottle by hand — the mouthpiece comes apart into easily cleanable and clickable parts that I have found strangely satisfying to put back together.
BUY IT: From $23 for a 12-ounce bottle at Amazon
The Strategist is a series of smart, obsessive shopping guides from the New York Magazine section of the same name. We've scoured the web to bring you the best of the best. Some of our latest conquests include iced coffee, umbrellas, beach tents, steak knives, teas, nail clippers, and yoga mats. If you buy something through our links, we may earn an affiliate commission. Please note that all prices are subject to change.