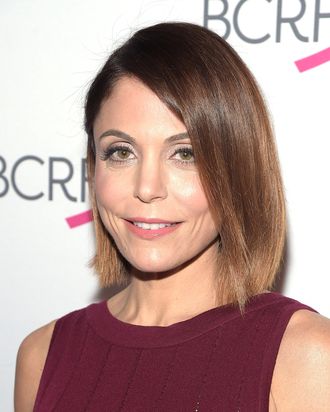 Bethenny Frankel.
Photo: Theo Wargo/Getty Images
The reigning diva of Real Housewives of New York Bethenny Frankel attended an exclusive Coldplay concert in the Hamptons this weekend. According to "Page Six," she could not handle it.
In a crowd of celebrities including Karlie Kloss, Sarah Jessica Parker, and Beyoncé herself, Bethenny managed to outshine everyone by throwing a drink on people she did not know. "Page Six" reports:
Witnesses said Frankel flew into a rage when a trio of women were in her way. "Bethenny was annoyed that the women were standing [in her way] and was really nasty, asking them to move," said a source. "She got so annoyed, she ordered [a drink and] then threw [it] at the women . . . They were speechless."

Another source said, "Apparently, [Bethenny] tried to pay a security guard to move them, but they refused to move. So then she threw a drink at them instead. Weird, since they weren't exactly in a prime section of the bar."
Entertainment Weekly described the incident this way: Bethenny "dumped a bottle of water on another patron and left near the halfway point."
A "source close" to Bethenny — perhaps Bethenny herself — explained to "Page Six" that this was a necessary maneuver. "It looked like this woman, who vehemently refused to move, needed some cooling off . . . so Bethenny tossed some water on her," she said.
What would Dr. Amador say? Probably nothing of value, but still, I think Bethenny should call Dr. Amador.
Update: Bethenny has issued a statement about the mêlée on Twitter.
Her former Housewives co-star Kelly Killoren Bensimon, meanwhile, told Us Weekly her version of events, since she also attended the concert. "We were all having such a good time and Bethenny seemed to be in a great mood. We said hello at one point and she nicely said hello back," she said. "I was shocked to read the story because I didn't see any of this. It just makes me sad that so much drama was created and nobody is promoting the Wounded Warriors. That's why we were there, to support them."
Amen.