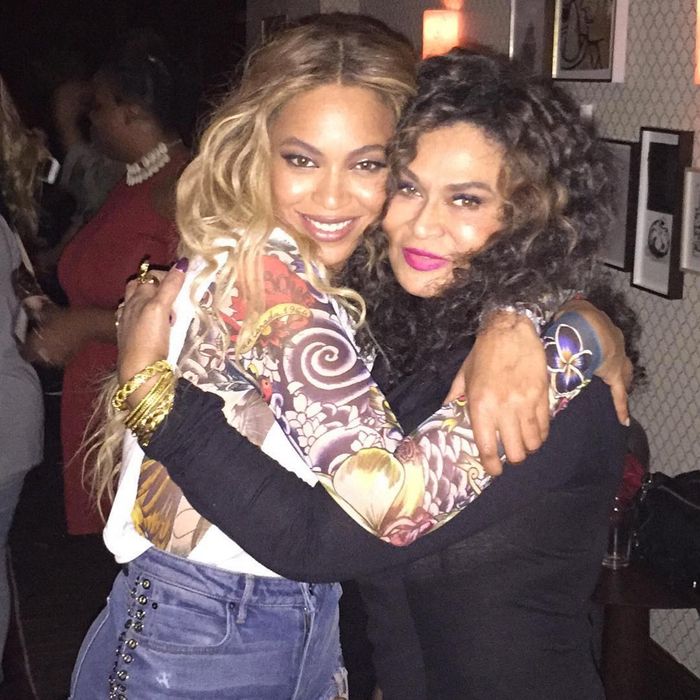 Beyoncé and Tina Knowles-Lawson.
Photo: mstinalawson/Instagram
Tina Knowles-Lawson, the mother of Beyoncé and Solange, is currently one of the best people on Instagram. She posts beautiful photos of her daughters and grandchildren, fun selfies from her tropical vacations, and stunning, concise reviews of current movies. You could unfollow everyone but Tina, and you'd still be up-to-date on popular film and the general whereabouts of Beyoncé.
How did Tina get so good at using this social-media app that your parents can't figure out? Today, Elle published a really good interview with her that reveals how she maintains her account. Tina described her Instagram philosophy this way:
"I'm just going through my day. I'm at Costco and I'm like, 'Mmm. These samples are really good. You can come have a little buffet.' I just posted it. It's just like whatever I'm doing in my day. It's very spontaneous. It's not like I say, 'Oooh, let me plan what I'm going to do.' You know what's funny? I try to have things like Corny Joke Friday. I don't follow through on it, but it's a fun idea. Life doesn't work like that for me so it's just whatever I come up with that day."
Like I said: really good. Tina also revealed to Elle that she asks Beyoncé and Solange for permission before she posts photos of them. "It's just respect," she said. "They are celebrities and I never want to put anything out that they don't want out there, so I ask all of them, 'Is it okay?' They'll tell me, 'Yes' and sometimes they'll say, 'No. I don't like that picture. That picture is wack.' I'm like, 'Okay. I can respect that.'"
Thank God no one stops Tina from posting Corny Joke Friday.
Get it? :)