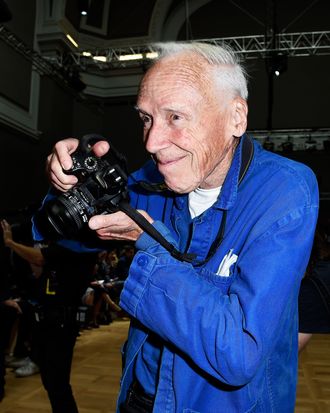 Bill Cunningham.
Photo: Pascal Le Segretain/Getty Images
Bill Cunningham photographed a staggering array of New Yorkers, famous and ordinary, over the course of his career. His vast archive of images has now been valued at $1 million, according to "Page Six," which also reports that the famously frugal photographer's net worth was $4 million, per a filing in Manhattan Surrogates Court. (The New York Times, his longtime employer, apparently does not own the rights to the images he shot for the paper.)
The question of the late photographer's fortune could end up being a contentious one. Yesterday, a report surfaced that Cunningham left behind two different wills, which were written a decade apart. One is addressed to his niece and nephews and his muse Louise Doktor, while under the older version, his estate would go to longtime friend Toni Cimino. This could get interesting.