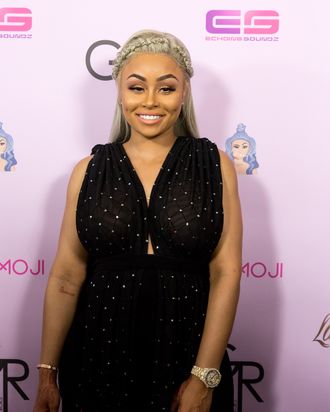 Blac Chyna is raking in the dough.
Photo: Greg Doherty/Getty Images
Coming right on the heels of her cover for Paper, Blac Chyna had one more majestic photo shoot to share with her fans. On Tuesday, she revealed her latest photo-shoot spread on Elle's website, featuring her looking stunning in a beautiful, short black wig and wearing — well, little else.
Chyna previewed the spread on her Instagram before it went live on Elle.com and it's perhaps her most extensive interview to date, following her making peace with the Kardashian family. The interview has plenty of interesting factoids about Chyna and serves as perfect promotion for her upcoming E! series, Rob & Chyna, which premieres September 11.
Included in the fun tidbits in the piece is how much more Chyna is earning these days. Apparently, Chyna "commands in excess of $50,000 for an appearance," according to her agent, Sujit Kundu. That's undoubtedly a big increase from her first job working at McDonald's, but it also dwarfs even her biggest payout — $15,000 in a single night — from her days as a stripper at the lavish King of Diamonds in Miami, according to Elle.com.
Her heftier paychecks these days also put her initial music-video roles to shame. Back when she starred in the video for "Rack City" with Tyga, he only paid her $2,500. But the woman knew better! "I should've gotten more. He's kinda cheap," she told Elle.com, apparently "half-jokingly."
With two major back-to-back photo shoots, we can safely say, Blac Chyna is off to a good week.