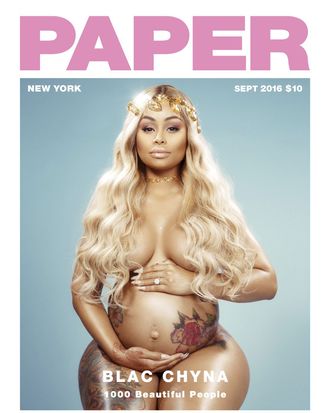 Blac Chyna on Paper magazine.
Photo: Courtesy of PAPER
Following in future sister-in-law Kim's footsteps, Blac Chyna posed like a glorious naked emoji on the cover of this month's Paper magazine, wearing a series of dainty bridal accoutrement. As you may have heard, Chyna is engaged (to Rob Kardashian!) and pregnant (with a Kardashian fetus!). And if you didn't know before, well, you do now.
The similarities between Chyna and Kim's Paper covers appear to be intentional. According to an E! interview with managing editor Abby Schreiber, Kim was on hand to give advice and encouragement during the shoot. "They spent a lot of time sort of having a private moment so I wasn't privy to what they talked about but my impression was she came to kind of give her support and encouragement and advice, I would imagine," Schreiber said. Very thoughtful of her!