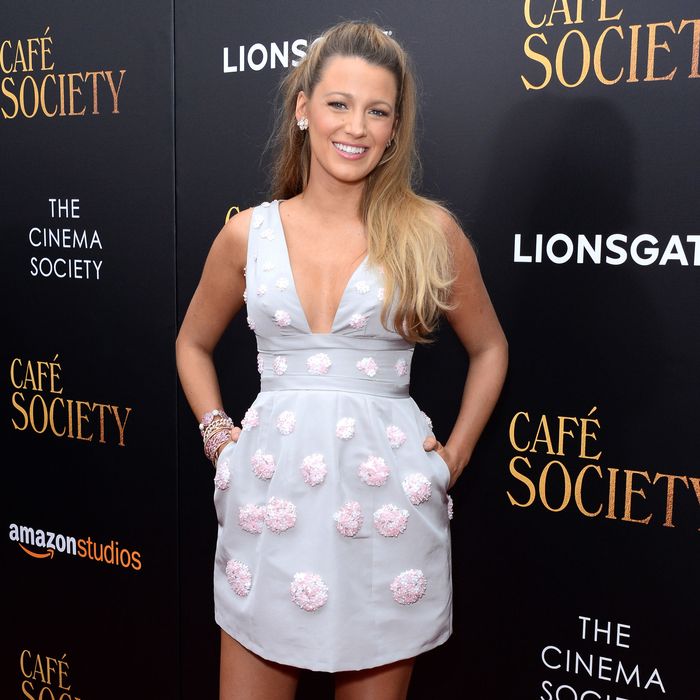 Photo: Andrew Toth/FilmMagic
If you've ever thought that the pressure on women to have bodies that "bounce back" after pregnancy is out of control — you're not alone. Blake Lively thinks so, too. In a video interview with Sunrise in Australia, Lively says the whole focus on women and the post-baby body ideal is "unfair."
Lively, who walks among us these days not as "Blake Lively" but as "Pregnant Blake Lively," made the comments during a sometimes-cringe-worthy interview intended to be about her latest film, The Shallows, which is just being released in Australia. Things took a detour pretty quickly to a focus on Lively's appearance.
The effusive reporter doing the interview started things off by making the mistake of introducing the actress as someone who "is so well-known for being Mrs. Ryan Reynolds." He then proceeded with a series of awkward compliments like: "You're the queen of the red carpet," and "I don't think I've ever seen someone so exquisitely dressed at an interview, in a junket interview."*
(*To which Lively could only laugh and look down, since she was wearing a gown and denim jacket.)
But that's all beside the point. Lively was in town to promote her latest film, right? Yet, the reporter, once again transitioned into her fitness regimen for the film, asking how she prepared for the role. Lively answered that she had to do a lot of endurance training eight months after having her baby. (She has a 2-year-old with husband Ryan Reynolds.)
To which, of course, the interviewer points out that when tabloids ask about how to get a post-baby body, they'll suggest doing a film like this. That's when Lively responded, "It's so unfair, it's so celebrated."
We live in a world, after all, where celebrity women are closely watched throughout their pregnancy and then are subsequently scrutinized when they make their "First Official Celebrity Post-Baby Appearance." It's pretty much a tabloid mainstay and Lively joined that club when she became pregnant with her first child, receiving plenty of praise for her post-baby body. Still, she'd like to see a different kind of celebration in the tabloids. "I think a woman's body after having a baby is pretty amazing," she said. "You don't have to have be Victoria's Secret–ready right away. You've just done this incredible miracle that life has to offer."
Indeed, she added: "You gave birth to a human being. I would really like to see that celebrated."
Watch the full interview at Sunrise.